Latest News on the Class of 1956
Please send NEWS, STORIES and PICTURES from our high school days.
Email Bob Rosier at: k4oce.qrp@gmail.com (You can just click on address)
LAST UPDATE : 5/11/2021
During our recent home downsizing, I found this old clipping of our Morristown High School Radio Club.
---
Sorry to report that we lost another classmate. Brian Rongo past away on April 28, 2021. Brian was a self-employed Auto Repairman which is not surprising to me....we all worked on our own cars; never took our cars to a repair shop. He was Fire Chief in Morris Plains 1987-1988. In lieu of flowers, the Rongo family kindly requests donations in memory of Brian to Morris Plains Fire Association (http://morrisplainsfire.com/). As kids, we all listened for the fire house siren which went off every evening at 5 PM. It told us it was time to head home for supper. I understand it is still heard every day at this same times..... More info by just typing: Brian Rongo Obits


---
Sad to hear that Michael Puskar passed away on Friday, January 1, 2021 after a short illness. Mike was quite a golfer and being so active, it was a surprise to me.
Mike was born in Morristown, and spent his formative years in Whippany before moving to Hopatcong. After High School he attended Dickinson University, and he worked in the Accounting and Sales Field as a Senior Sales Representative for Sentry Insurance for 25 years.
He was a member of the Whippany Fire Company, Whippanong American Legion Post 155, the Polish American Club of Whippany, and was a longtime member of the Shawnee Country Club, Shawnee-on-Delaware, PA.
He is survived by his wife Bonnie of 55 years and his son David, and grandchldren Cal and Joy Puskar.
A memorial gathering will be held on Wednesday, January 6 from 4:00 - 5:30 PM at Morgan Funeral Home, 31 Main Street, Netcong. A funeral service will immediately follow the visitation at 5:30 PM at the funeral home.

In lieu of flowers, donations to the Community Food Bank of New Jersey, 31 Evans Terminal, Hillside, NJ 07205 (www.cfbnj.org) would be appreciated.
Messages of condolence may be sent to: NetcongFuneral.com
---
Sorry to lose another classmate, Evester Foote, departing this life on December 11 2020 after a short illness. He was always such a gentleman and caring to everyone.
Evester maintained active membership with Calvary Baptist Church of Morristown where he sang and directed the James Coleman Gospel Chorus while a faithful member. Evester was a gifted director and singer.
After graduating from Morristown High in 1955, he enlisted in the U.S. Army and was stationed in Korea. After serving his country, he was honorably discharged and began employment at Warner Lambert in Morris Plains, NJ. While there, he completed the Morris Plains Police Academy and became a Morris Township Police Officer prior to transferring to the Morris County Park Police unit. He proudly earned an AA Degree in Criminal Justice from Morris County Community College in 1989.
Evester was joined in holy matrimony to the late Betty Jean Foote (Weber) on September 12, 1965. Together they traveled and enjoyed life to the fullest.
Uncle Bus, as he was lovingly known by his immediate family members, will be greatly missed. He was genuinely respected and admonished by all who came in contact with him.
Although Uncle Bus' laughter, joy and zeal for life is no longer present, our memories will linger forever.
---
Sorry to hear Lois Tiger (Terreri) left this world on May 10, 2020. "Lo" was born in Morristown and stayed in the area until 1969.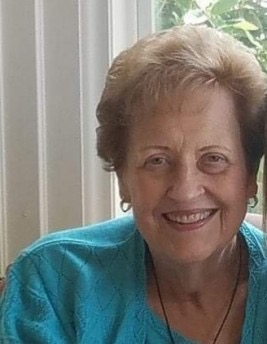 In 1969, she moved to Clinton, NJ where she spent her career working for the Town of Clinton as the Town Clerk. She was very active which included membership in The Sweet Adeline's where she served as Director for 10 ten years. She was also a member of the Highland Chorus in her community. She was a member of a Bridge Club. She also did a lot of traveling which she and her husband, Paul Terreri really enjoyed.
Sorry to report that Joe Ferraro past away on April 18, 2020. He was born & grew up in Morristown. He graduated from Seton Hall University. He was in the US Army and National Guard from 1961-1967.
In 1965 he married Mary Ellen Pettigrew and soon after they moved to Ibadan, Nigeria for Joe's job with Interpace Corp. They next went to Cape Town, So. Africa. Their daughter Stacy was born there, and soon after returning to Morristown, their son Kevin was born. He was an accountant by profession and retired after 28 years with Schering-Plough.
You may recall that Joe was a well-rounded individual enjoying a wide variety of music, enjoyed hunting and fishing, loved sports cars, was in the Band, and on the Football and Basketball teams. He often said "I never met a pizza I didn't like."
---
Two of our classmates have or had the coronavirus, but they are both doing fine. I don't want to mention their names without checking with them, and this is not a good time to make contact. My main goal here is to remind you to be careful, stay indoors as much as possible, use masks when out & keep the separation.
---
Recent Sunshine Girls Lunch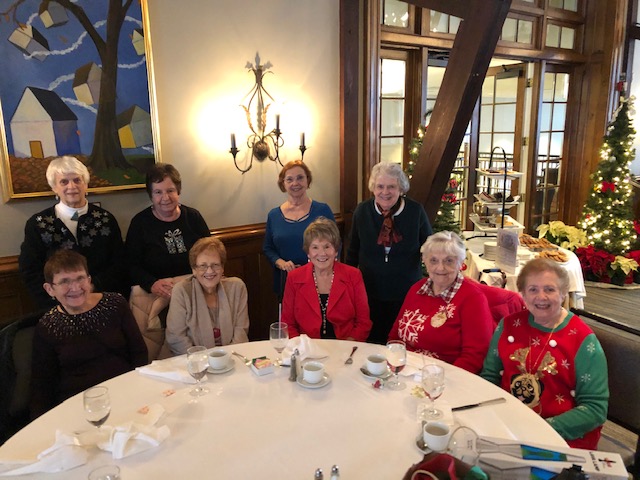 Back: Edie Sieben Strelec, Anne DeNunzio Todero, Carolyn Cowan Lawrence, Maryclare Dempsey Myer
Front: Irma Taylor McKenna, Lois Velmer Gelernt, Nikki Carriero Ploetner, Brenda Nolan Geissler, Roberta Greenberg Reddy
---
Great Mini-Reunion on Friday, September 27th, 2019
We had some first timers; Tom Hyland and John Boulton and we had a few that had to cancel at the last minute; Guyanne Fake Renigar, Irma Taylor McKenna, and Joe Ferraro. Everyone missed them, but it was still a great turnout of about 25 classmates. Also glad to see Evester and Bette Foote after they missed the last reunion. More pictures coming. Stay tuned!
Send any pictures or any information you would like to add.....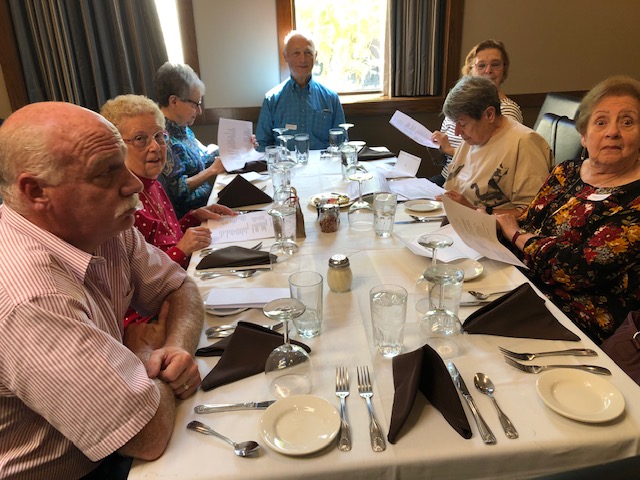 John and Stevie Angelis, Nogah and Bruce Revesz, Carolyn Cowan Lawrence, Debbie Gubin Meisels, Roberta Greenberg Reddy
Elaine Fenton Blasky, Marilyn Hiler Bendel, Tom Hyland, Maryclare Dempsey Myers, Dan Myers, Phil Webb, and Sandy Smith Webb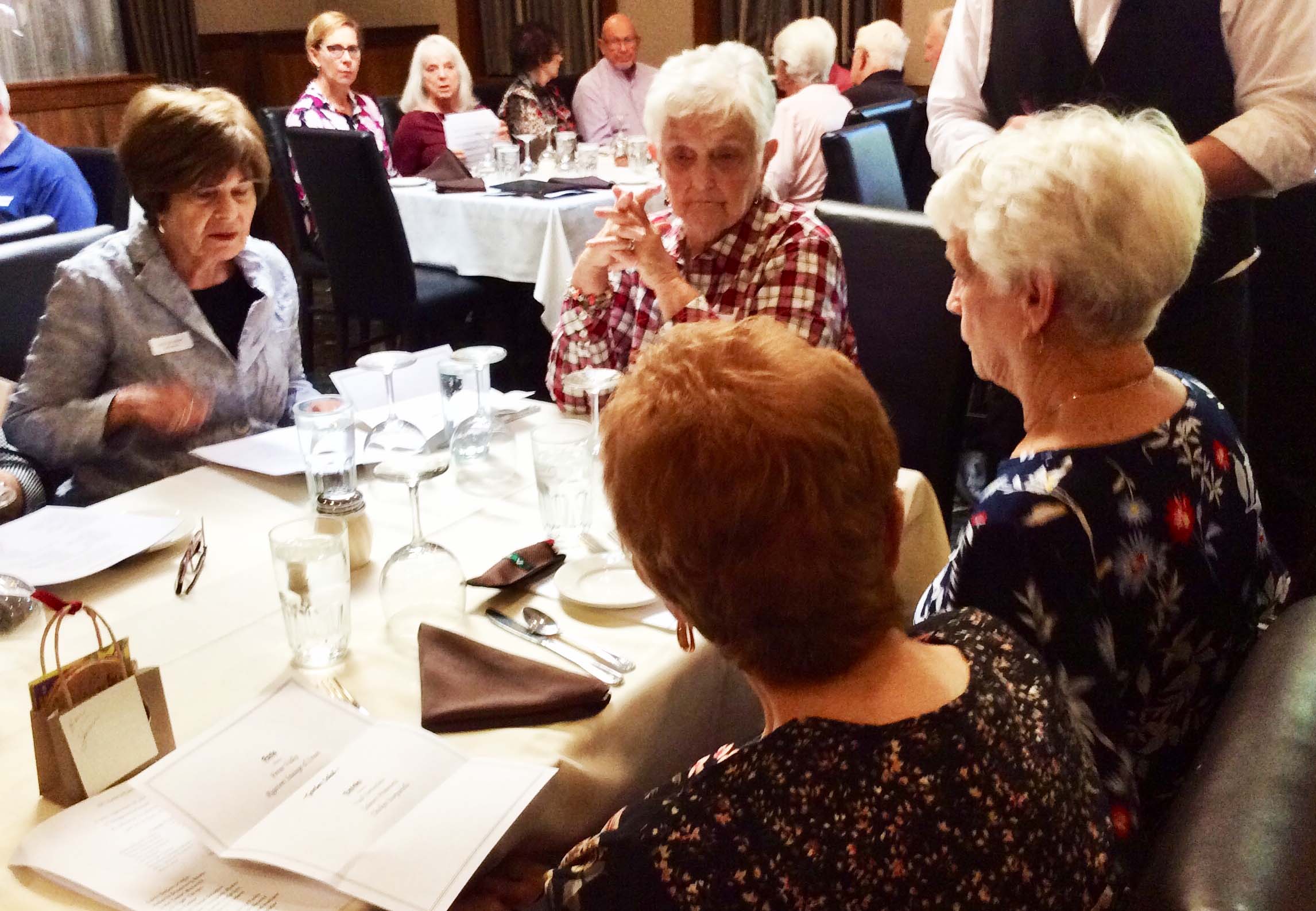 Lois Velmer, Brenda Nolan, and Edie Strelec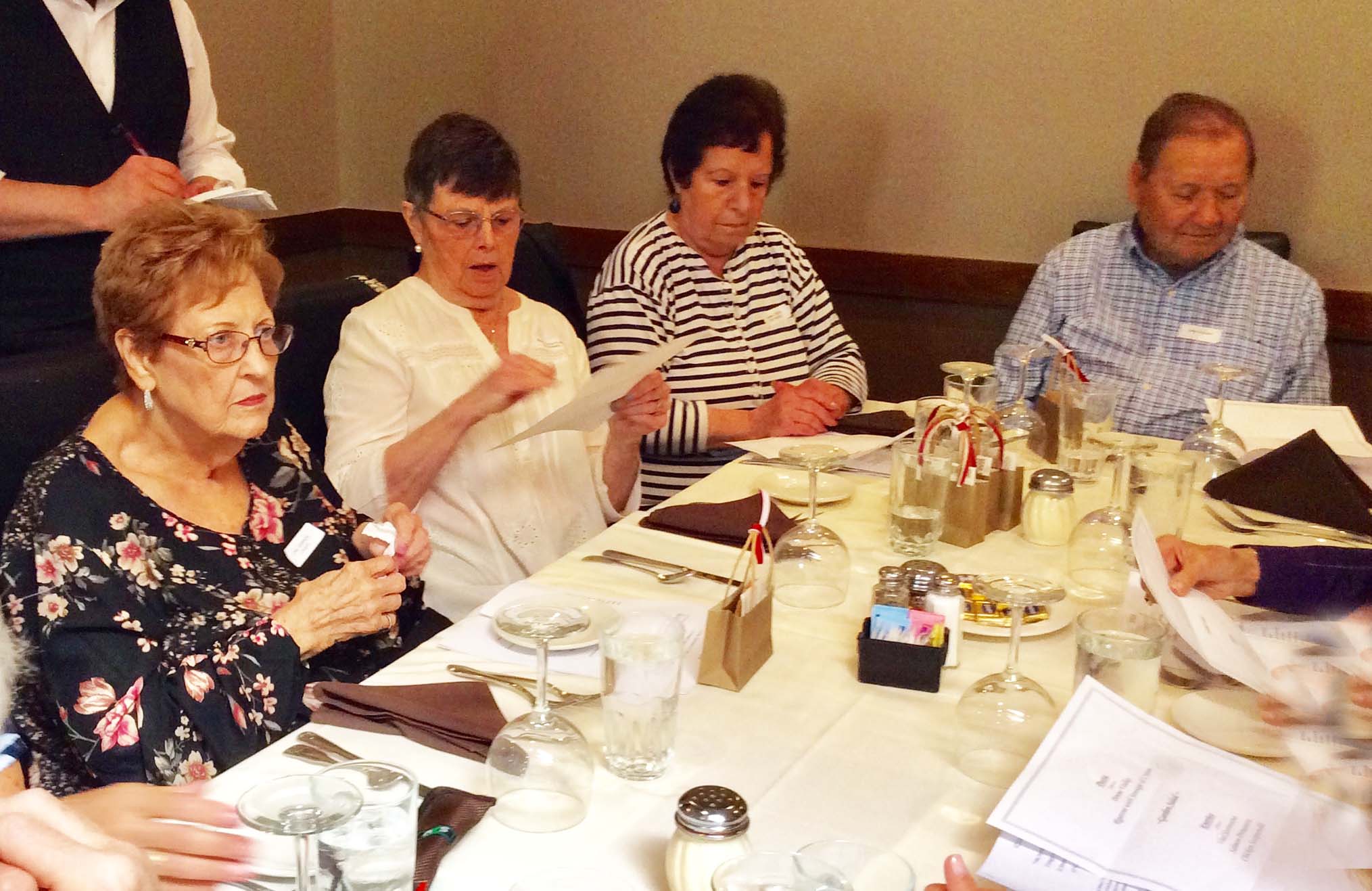 Lois Tiger Terreri, Mary Schwind Scripture, Anne DeNunzio Todero, Mike Puskar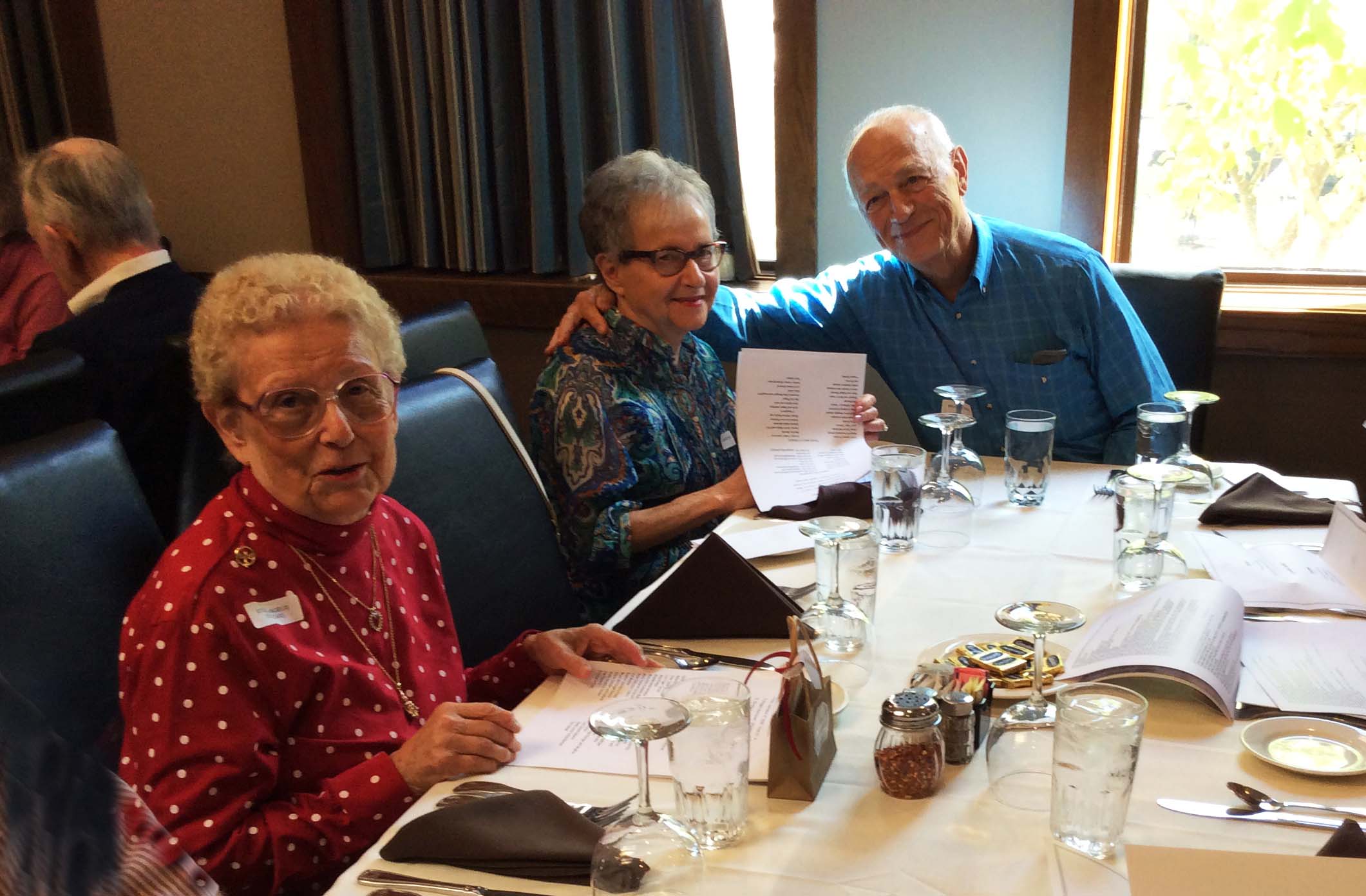 Stevie Solodor Angelis, Bruce Revesz's wife, Bruce Revesz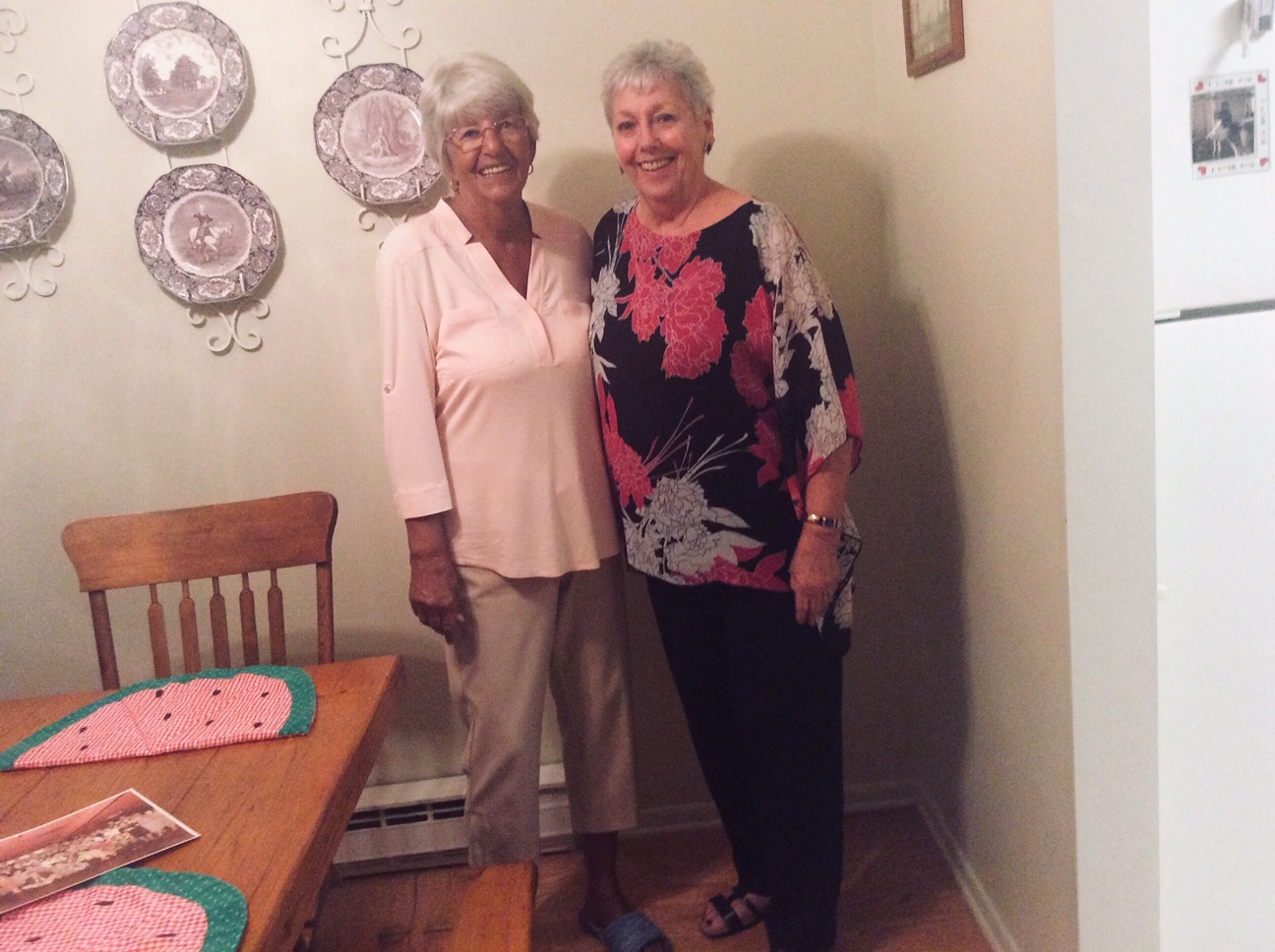 Sandy Smith Webb and Stella Studnick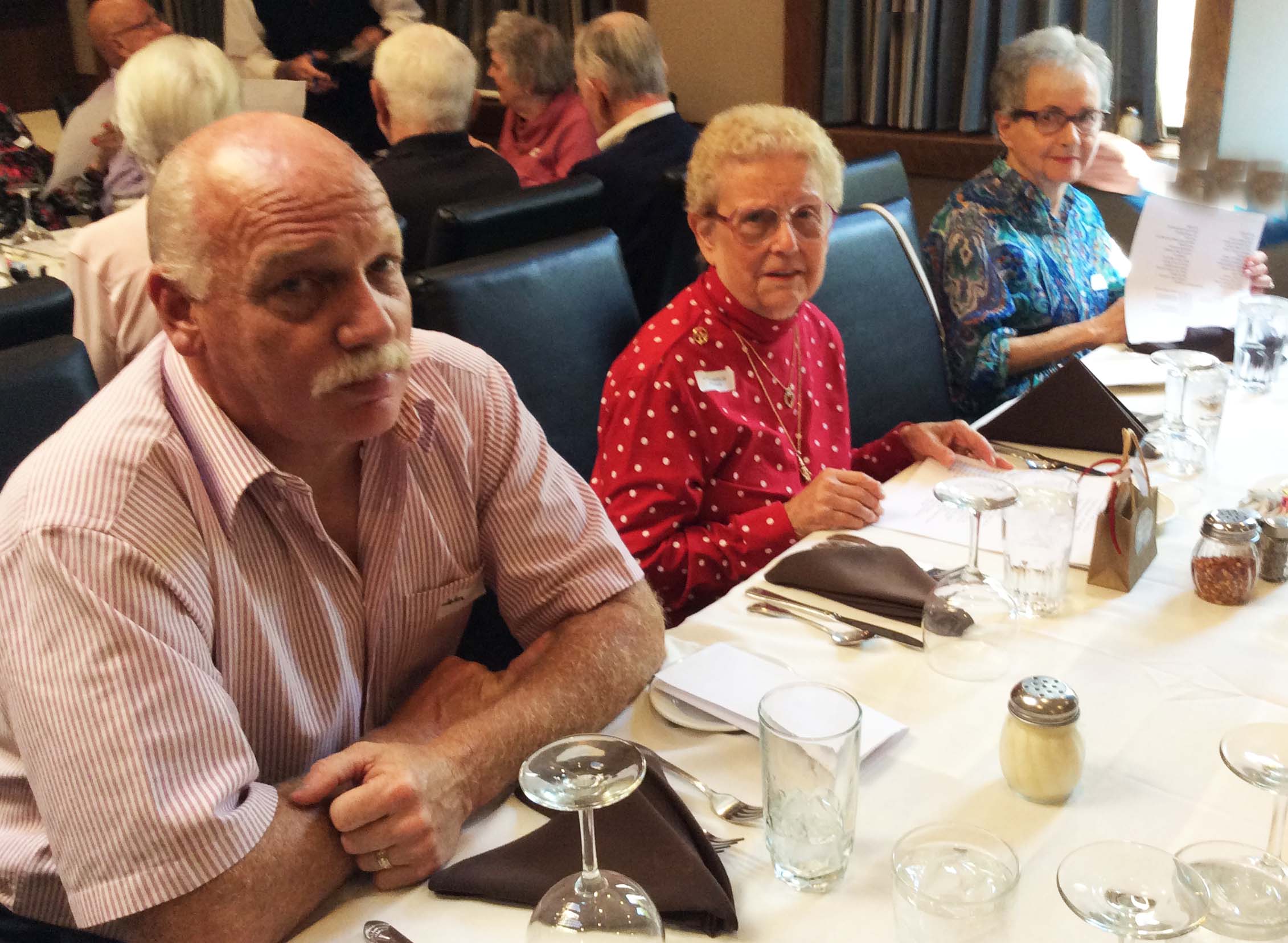 John and Stevie Solodor Angelis, Nogah Revesz ( Bruce Revesz's wife)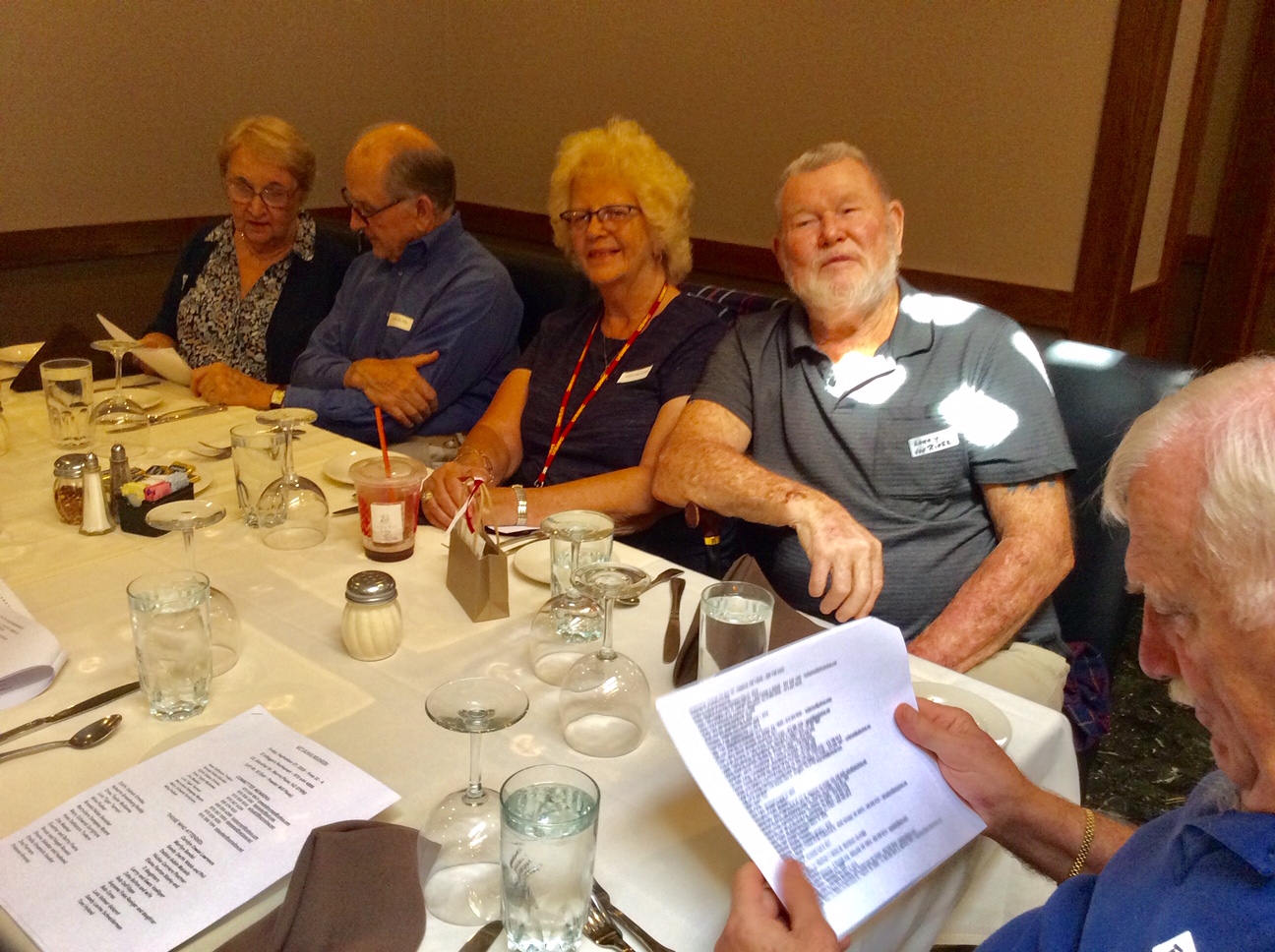 John Boulton's wife, John Boulton, Gwen VanRiper, Larry VanRiper, Francis Graves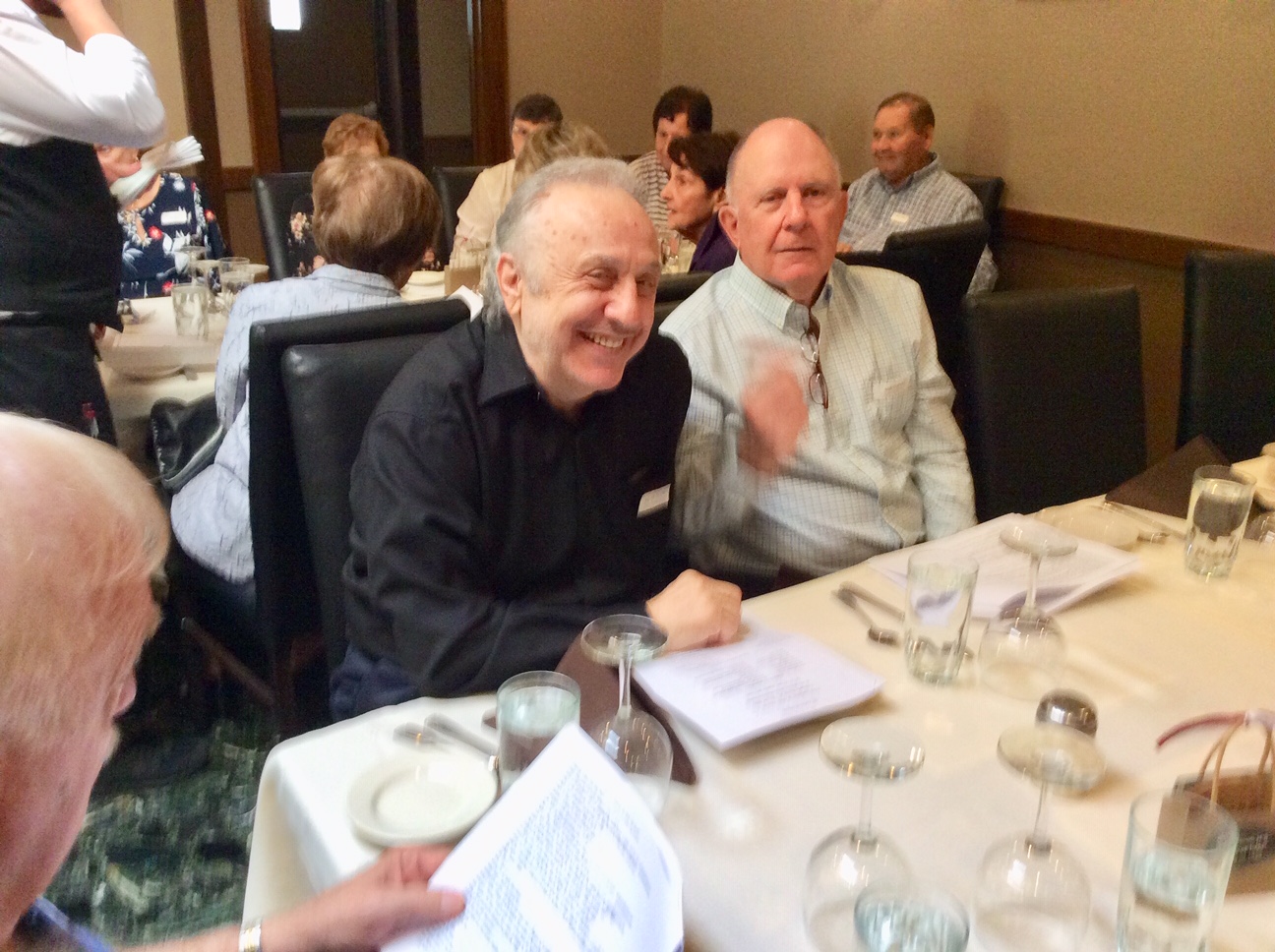 Bob DeFilippo and Bob Corea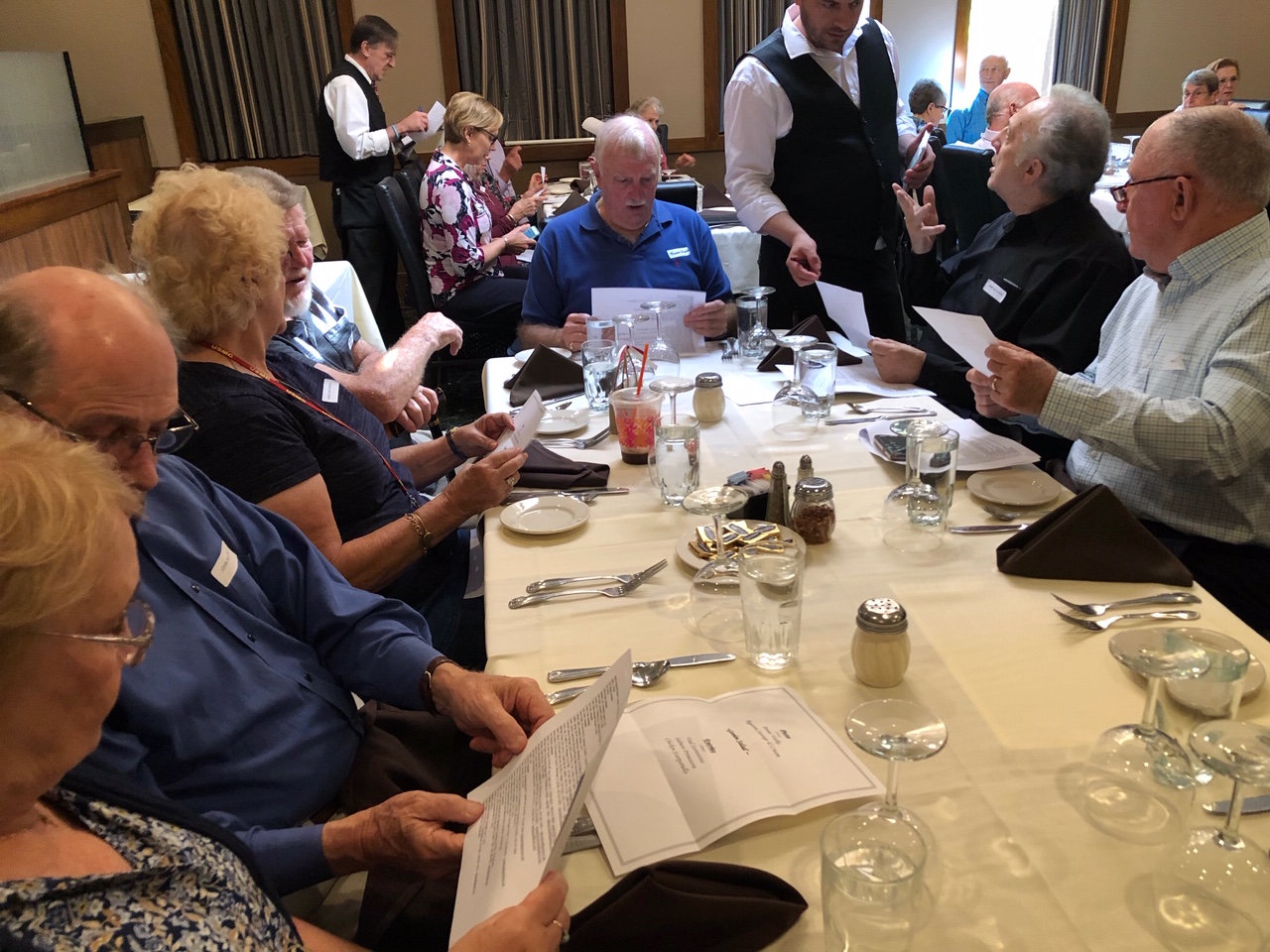 John Boulton's wife, John Boulton, Gwen VanRiper, Larry VanRiper, Fancis Graves, Bob DePhilippo, Bob Corea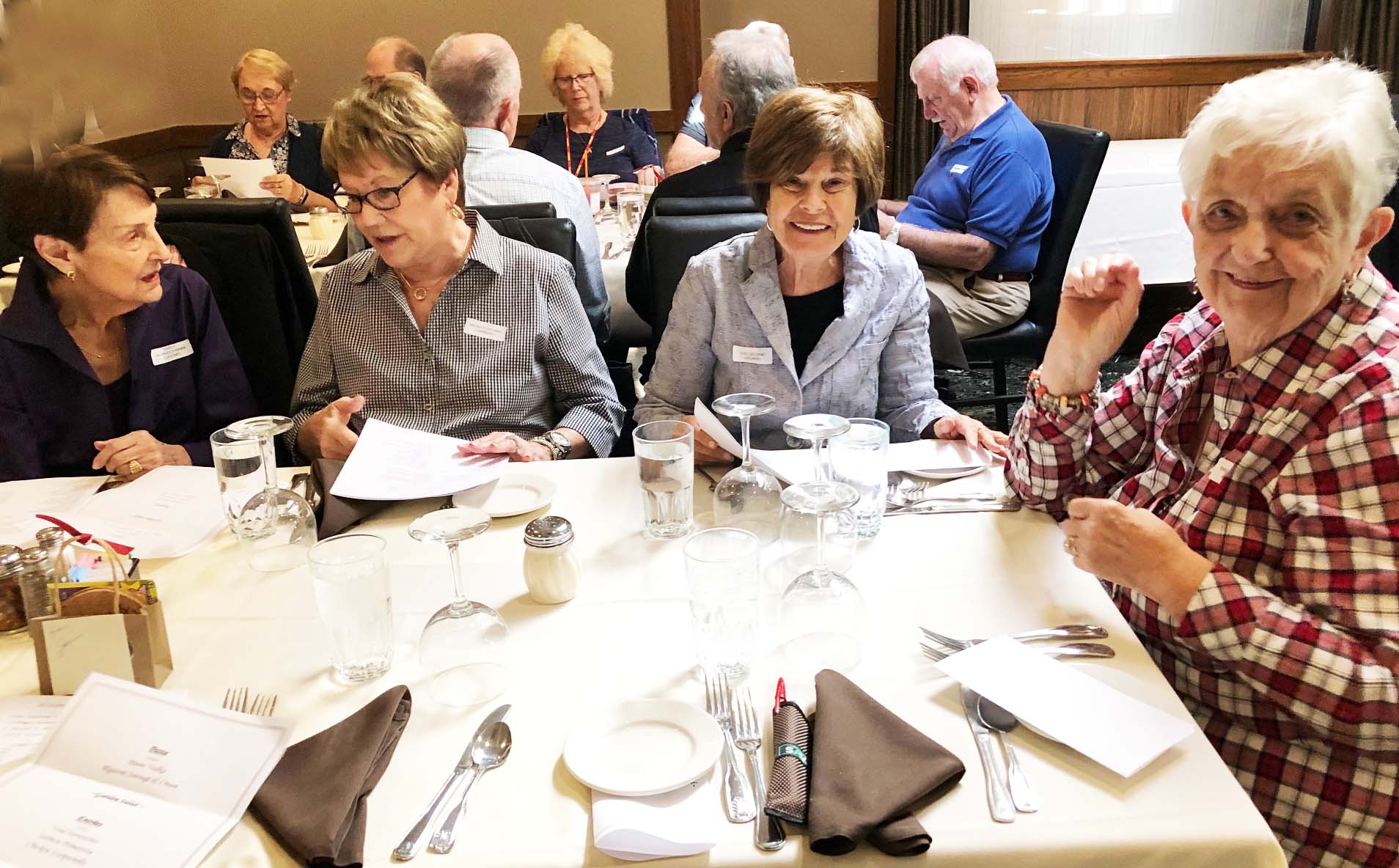 Sandy Levine Schneiderman, Nicki Carriero Ploetner, Lois Velmer Gelernt, Brenda Nolan Geissler
Elaine Fenton's daughter, Elaine Felton, Marilyn Hiler Bendel, Tom Hyland
---
ad to hear that Fred Renigar passed on February 24, 2019. Fred and Guyanna were two special people in our high school class. In those short four years, they both made great impression on me and I'm sure many others. Guyanne, may God give you and your family peace in this time of sadness....
---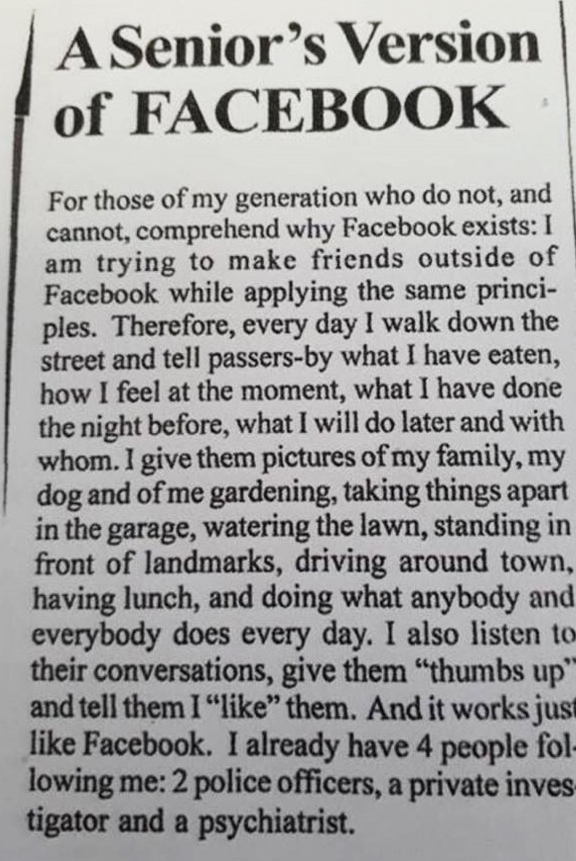 Our friend Steve Storgion of Morris Plains passed away peacefully on February 5, 2018. I considered Steve (a.k.a "Greek") a unique and taleted individual and a really nice guy. He was an artist and a philosopher. You should remeber his cartoons in the Broadcaster. I remember him saying "This is the tomorrow you worried about yesterday". Steve worked at Compton Press for 28 years. He is survived by his loving wife Christine of 54 years and 3 daugthers, Eileen, Karen, and Lynda.
---
Sorry to hear my good friend Paul McNaughton passed away January 15, 2018. I recall he was on the swim team & as he always told me, he did join the Coast Guard after graduation. He and I both liked Hudsons, and he had a cool Hudson Hornet convertibles. He also liked "Autumn Leaves" by pianist Roger Williams. Sometimes he would pretended to run his fingers down his dashboard as an imaginary piano keyboard. I will miss him & glad he made a few reunions.
---
Peter Pennimpede, "Pete" of Morris Township died on
Thursday, August 10th 2017 from complications of a surgical procedure.
Pete was born in Morristown, and was considered a good dancer & always well dressed. Our year book said, "he always had the shiniest shoes". He worked as a bartender at several locations and on his last job worked as a singing bartender at the Wishingwell in Saratoga New York.
Raise your glass and say salute to the best son brother cousin and friend we all had in Peter Pennimpede.

---
The Golden Girls are still meeting.....what a nice looking group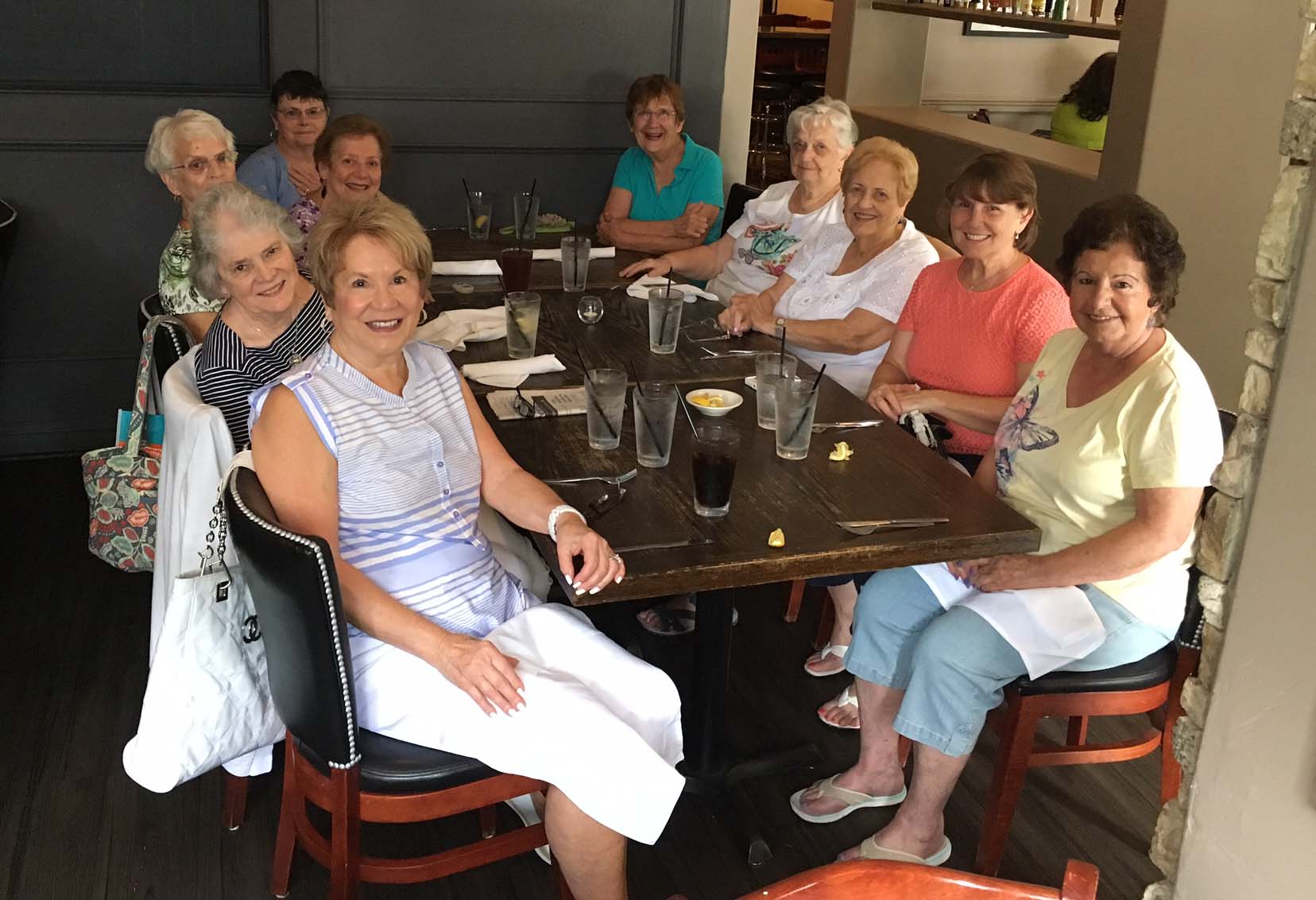 Back Left: Mary Scripture, Roberta Reddy, Edith Strelec, Maryclare Myers, Nicki Ploetner,
Back Right: Irma McKenna, Brenda Geissler, Lois Terreri, Pam Kane, Anne Todero
Missing lunch: Marilyn Bendel, Charlotte Terreri and Guyanne Renigar
(Pam Kane is the granddaughter of Mr. Charles Meys, MHS Choral Director. She joined the group to share stories. She received a doctorate in music, currently a music director, & plays organ at St. Virgil's church. How great to carry on the family tradition of music)
.....................................................................................................................................................
I heard that Fred "Pete" Mackenzie recently past away. Hope to have more details soon. posted 8/1/2017
-------------------------------------------------------------
Sorry to say we have lost 2 wonderful class mates on the same day. Larry Rosenhaus and Geraldine (Gerri) Luckey Van Riper on February 1, 2017. Gerri was always active with the Golden Girls. She became ill about a year ago. Edie (Sieben Strelec) got a group together a few weeks ago and brought lunch to her facility, and she was glad to see the "girls" again. Many thought her to be a truely happy-go-"luckey" person.
Larry Rosenhaus , 77 also passed on February 1, 2017 from Cancer. I have always kept that image in my mind of Larry and Dave Ressler - "life is simply a bore !" (on page 87 in our year book. Larry graduated from the University of Miami. He was very active; VP of one large company, owner of a Bottle Shop, an avid dog lover of his dashshunds, member of the Spring Lake Chamber of Commerce where he helped build a playground. He was also an avid Yankee Fan and a boater. Very busy person.
An up-to-date on George Hayward. You may remember, George couldn't make the last reunion because he had a triple bypass days before the reunioin. Jim Meeker said that he is now living with his sister in Denville until he's well enough to go back to his home in Virginia. Edie (Sieben Strelec) arranged for the reunion committee to have lunch recently and he seemed to like the idea. We all wish for a fast recovery and I will keep everyone informed.
GOLDEN GIRLS CHRISTMAS/HANNAKA LUNCH hosted by Lois Terreri- December 7, 2016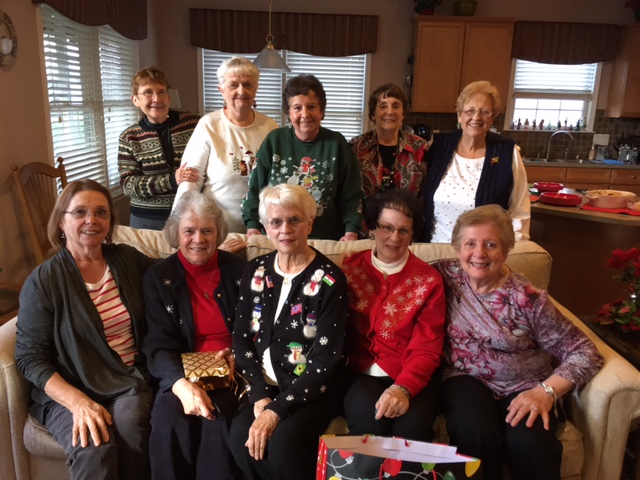 Irma Taylor McKenna, Brenda Nolan Geissler, Ann DeNunzio Todero, Guyanna Fake Renigar, Lois Tiger Terreri
Carolyn Cowan Lawrence, Maryclare Dempsey Myer, Edith Sieben Strelec, Marilyn Hyler Bendel, Roberta Greenberg Reddy
(Missing: Charlotte Vigilante Terreri, Nikki Carrerio Ploetner, Mary Schwind Scripture, Gerri Lucky VanRiper)
---
We had a great 60th Reunion on September 30 at Rod's Steak and Seafood Grill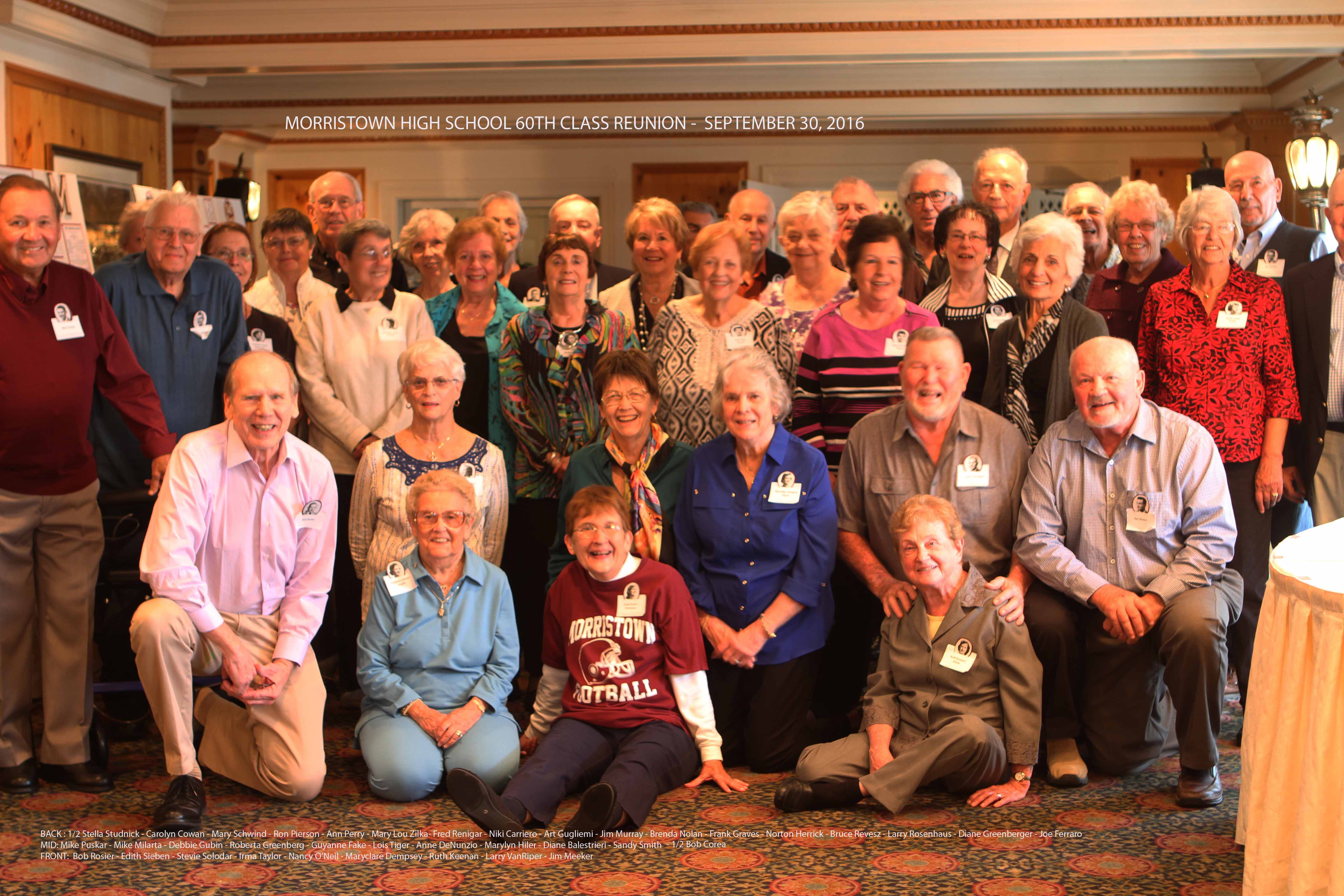 Everyone had a good time and I will be posting pictures soon. Please send any pictures you might have taken at the reunion for publishing here. The class pictures have been printed and will be mailed out soon. We had hoped to take the pictures outdoors in natural light, but did the best we could with the poor inside lighting. Names were added to the pictures.
People who attended:
Diana Balestrieri Dale - Elaine Byram Byrne - Niki Carriero Ploetner/Bud - Carolyn Cowan Lawrence - Maryclare Dempsey Myers - Anne DeNunzio Todero - Joe Ferraro - Frank Graves - Roberta Greenberg Reddy - Diane Greenberger Ragins - Deborah Gubin Meisels - Arthur Gugliemi - George Hayward - Norton Herrick/Elayne - Marilyn Hiler Bendel - Steve Hoskins/Moira - Bob Huebner - Ruth Keenan Drum - Jim Meeker - Mike Milarta - Jim Murray/Lisa - Brenda Nolan Geissler - Nancy O'Neill Pine - Ann Perry Johnson/Bill - Ron Pierson/Carol - Mike Puskar - Fred Renigar & Guyanne Fake - Bruce Revesz/Nogah - Larry Rosenhaus - Bob Rosier/Sue - Mary Schwind Scripture - Edith Sieben Strelec/Diane Cecala - Sandy Smith Webb/Phil - Stephanie Solodar Angelis/John - Stella Studnick Lukeman Souder - Irma Taylor McKenna - Lois Tiger Terreri - Joan Tinus Cornine - Larry VanRiper/Gwen - Mary Lou Zilka Miller/Sister Helen
---
"Glory Days" - 1951 Baseball Championship - Sent by Stuart Black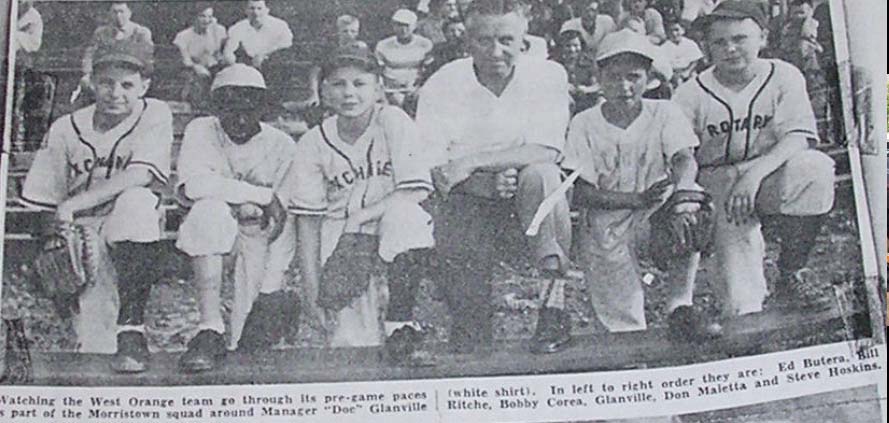 left of coach is Bobby Corea, & on the right Steve Hoskins
---
Dave Enman passed away on March 31, 2016 from a chronic lung illness. His 3 daughters, Cyndy, Jill, and Kris sent me the news. Besides MHS, many of us were classmates at the Borough School in Morris Plains.
When I receive a new picture from one of our classmates, I should make you guess before
I tell you who she or he is. See if you can guess this one...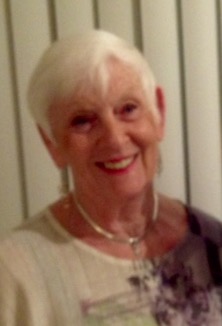 (Dotty Allen of course)
She said she wouldn't make the reunion. She now lives in Richmond, VA. I have updated her info. Her Email is floralgran@icloud.com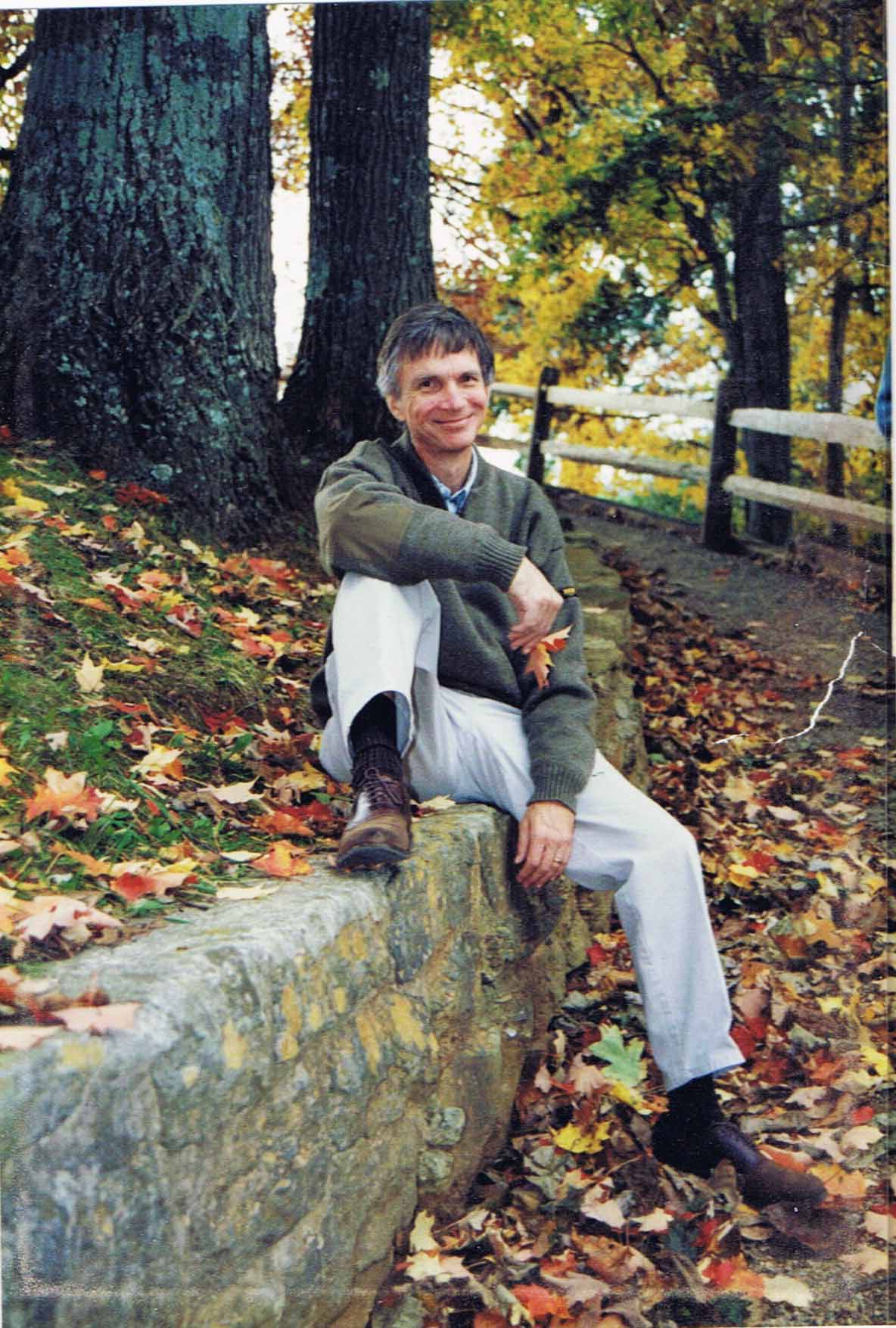 I bet many remember this fine fellow.Tom Lyon who passed away March 25, 2012. His daughter Caroline sent me some pictures, and right away I could tell it was Tom. The picture was titled "Fall on the Wall". Sorry for your loss Caroline and our loss as well.
Sorry to hear of the passing of Paul "Fuzzy" Jones on January 25. Funeral services will be at 11a.m. Saturday, January 30 2016 at Updike Funeral Chapel, Bedford, Va. (540-586-3304). Paul enjoyed Chemistry and Mathematics in high schoool. Later he worked for General Electric for 35 years.
---
Our 57th Class reunion was Fantastic.See Photo Gallary Page
Our classmate Fred Guerin (some called him Freddy) died on December 30, 2015. He was on the basketball team all four years of high school. He was born in Dover, our rival, but we were glad he made his way to Morristown.
---
Sorry to hear about the loss of another classmate, Gerry (Longo) Desiderio on August 1, 2015.. You probably remember her in the Color Guard, but she was involved in lots of other things.Relatives & friends are invited to attend her Funeral Service at 6 pm on Thursday, August 6th at the Par-Troy Funeral Home, 95 Parsippany Rd., Parsippany. Information at (973) 887-3235.
---
Mildred "Millie" Esposito Sangillo passed away June 11, 2015. Her strength was the way she showed love to everything and everyone she touched.Relatives and friends are invited to attend her Funeral Service at 10:30 a,m on Monday June 15th at Somerset Hills Memorial Park Chapel, 95 Mt. Airy Road, Basking Ridge. She and her husband have been living in Denville for the past 25 years. In high school, she collected records (remember those 45 rpm) and enjoyed dancing, sports, and hillbillies.
---
Bob Cameron passed away peacefully at home on June 3, 2015. "Whachadoin" he use to say. He was living in Petaluma, CA 94952. posted 6/7/2015)
---
Sorry to report the passing of Elizabeth "Libby" Thompson Dorl on June 1, 2015. She was a 4th grade teacher, a caseworker for Mental Health Association, & later a volunteer & board member with the Mental Health Association. She was a very busy person active in many organizations.That probable doesn't surprise you, because at MHS she was in the choir, played basketball, ran track, Student Councel, Physics Club, Broadcaster Staff, Cobbonium Staff, etc. She met her high school goal of college and teaching.. (posted 6/6/2015)
---
Sorry to have to report another loss of a classmate. Margaret "Peggy" Swetz Perkalis. Many of you probably knew her well since she was born and stayed in the Morristown area. Her death was a result of an automobile accident. Her husband Paul Perkalis was a police Sergeant in Morristown. (posted June 2, 2015)
---
Sorry to report the loss of another classmate. Mary Lou Winston "Lou" still lived in Morristown and passed away peacefully at home. Most of us took languages because we had to, but she liked French and Spanish. She also liked music and was in the A Cappella Choir.
---
Our family has regular reunions, and I hope your family does the same even though some families are getting quite large.
I know Pete Kerwien's family has regular reunions as can be seen in this recent photo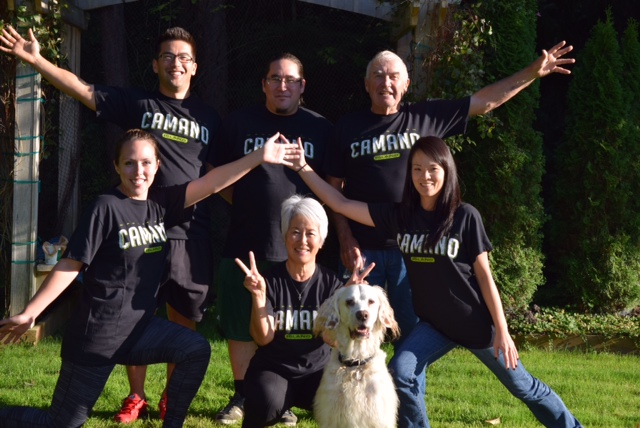 Pete sure keeps busy. Writing one book in a lifetime would be a challenge, but 6 books? Wow.
I can only congratulate my old buddy from Morris Plains. Go to Amazon and pick up his latest 3 books
My Father who "Art" in Heaven about 3 generations of Kerwiens who were mayors of Fort Lee, NJ and were noted for their political and business contributions
From Crossed Paths about 4 people from different locations and different generations being brought together to make a combined book of poetry & photographs.
Alaska Here we Come about another travel by Pete and Mitzi taking their RV to Alaska (you might recall their 12,000 mile trip across the US). Their experience, the people they met, the wildlife they saw and the history they learned from books and museums along the way make for a great story. (posted 1/22/2015)
------------------------------------------------------------------------------------------------------
David Griffith died peacefully at home on February 17, 2014 of complications from Parkinson's disease
He attended college & graduate school at Swarthmore College, Columbia Universary, & Cornell.
"Griff" became an internationally-known specialist in 18th century Russian history
He leaves behind his wife Karin, a daughter Kirsten, and a son Mark
At MHS Dave was involved in Choir, band, sports as well as the Dramatic Club
posted 6/4/2014
---

We are sorry to report that our classmate Paul Kelly passed away on May, 13, 2014 due to complications from Parkinson's disease. You may recall in the class Hall of Fame, we voted Paul as being the Best Mixer and the Ipana Kid. Paul achievements were so numerous throughout his life that it would take a book to cover them all. He achieved great status as a doctor and a writter. When most of us were ready for retirement, he and his wife Beverly headed to the country of Oman where he assembled an extraordinary team of dermatologists and geneticists to carry out epidemiological and genetic studies.
In lieu of flowers, you may help support Paul's efforts in dermatology by donations to PlanRight, 413 Western Drive #15, Santa Cruz, CA 95060-3078. Put "In memory of A. Paul Kelly, MD"on the memo line of the check..
posted 6/3/2014
---

Ralph Banks Jr "Zeke" of East Orange, NJ passed away on Feb. 25, 2014. I knew him well from track, and he was always a good friend and a cheerful person to be around.... and a fast runner! We use to joke that he took 6 periods of gym instead of the usual 3. Never found out how or why this happened. He attended Fairleigh Dickinson University in Madison, NJ. Ralph leaves his wife Ada, daughter Robyn, 3 grandchildren & 1 great-grandson.

posted March 1, 2014
---
posted 12/21/2013 Sally Wells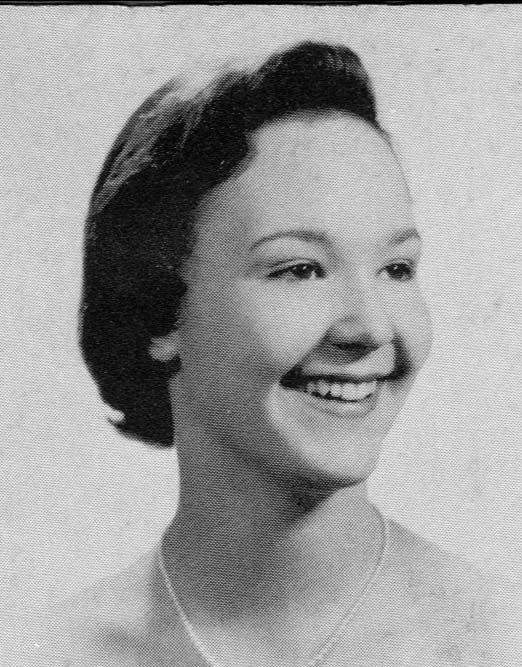 Sorry to report that we have lost another classmate, Sally Bennett Wells on December 16th from cancer. I remember her as always having a smile and always involved in a lot of things at MHS. Many different sports, cheerleader, spanish club,Ti-Hi-Y, etc. "I can't remember" was her well known saying. Not only did she continue her education and graduated from college, so did her 4 sons which made her really proud.
.....................................................................................................................................posted 12/9/2013 Pete Thompson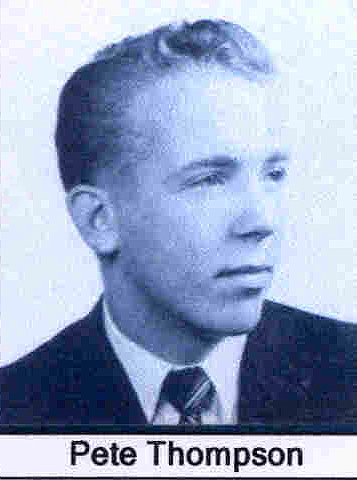 It was sad news to hear that our classmate and good friend Pete Thompson passed away November 25th. He and I and Jimmy Richardson were always together in Morris Plains over in the local sand pit, the G.Washington Coffee Plant, hanging around town or at our houses. He had a Mule named Jenny....we often teased his sister Jini calling her Jeni. His Dad built a club house where we spent many hours and even overnight a few times. His Dad even started a band for our group and bought music for each of our instruments. He had a great Mom & Dad. Pete earned spending money by selling Chrysanthemums which he grew in their large back yard garden. We were in boy scouts together and below is a picture of our camp ground (pete on left). Also below is a our 8th grade picture with Pete & Ann Marie Perry. There is so much more, and I will add more as I think of it............
Click here to link to his Obituary.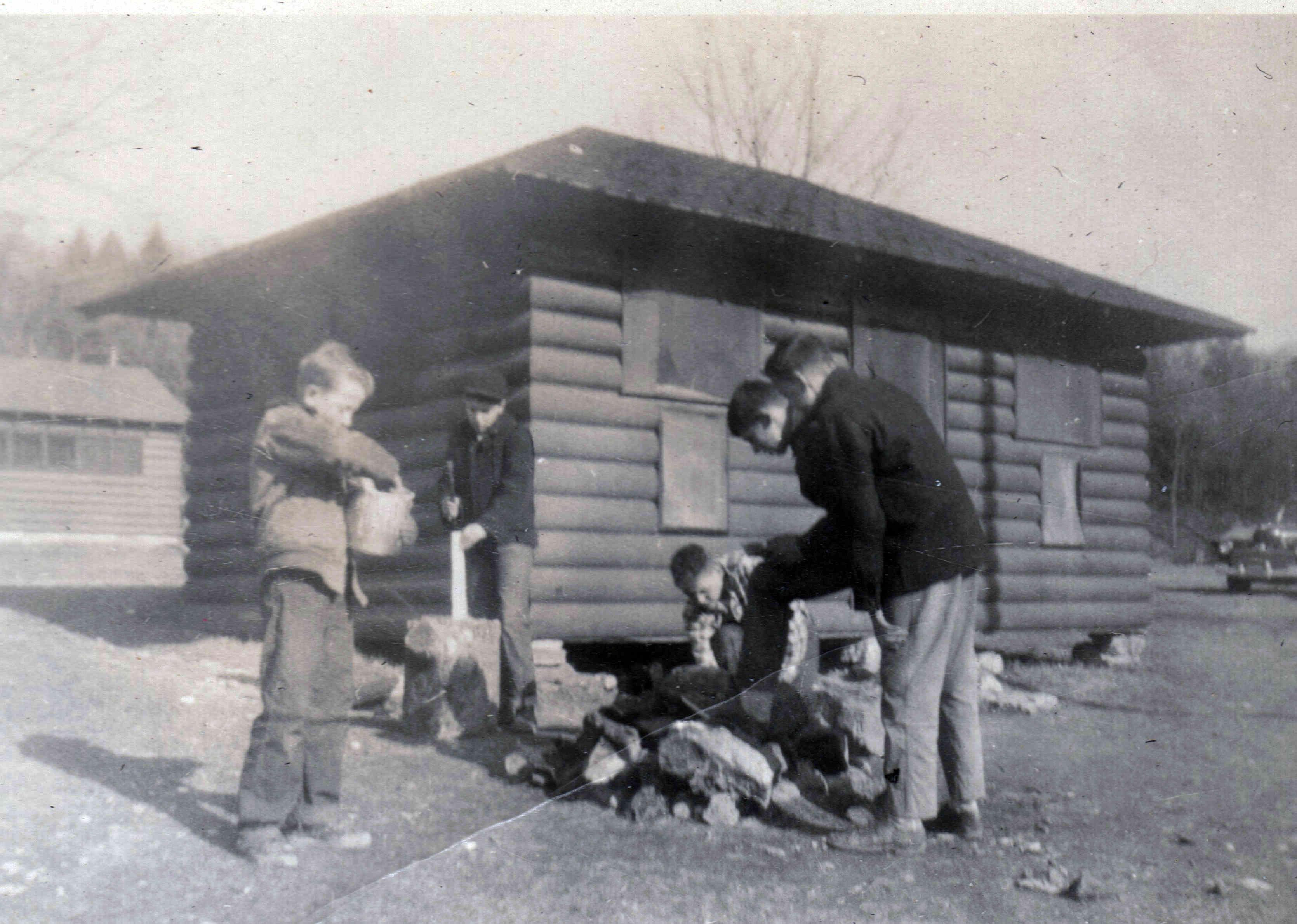 Camp Wawayanda
Northern NJ
.........................................8th grade graduation..Pete and Ann Marie Perry Johnson
.............................................................................................................................................posted 11/22/2013.Nicknames
It is interesting that there were so many nicknames used in our class. I think we should have a contest to see if you can put a name to the nicknames.....maybe an idea for the 60th reunion?? Here are just a sample of some of the nicknames: Gret, Muffer, Goo, Fuzzy, Knip, Frenchi, Cokey, Beet, Long John, Punkin, Jug, Hudson,Flip. Clare, Bevo, Aik, Dotty, Nat, Punch,Slim, Guy, Lemonhead, Deck, Rusty, Syl, Con, Nebly, Grover, Squeekie, Dinny,Nort, Jar, Nita, Griff, Peeps, Sleeve, Greenie,Scotty,Nan, Newt, Shank, Sag, Lil, Mo, Curley, Windy, Vec, Snowball, Libby,Muff,Tweet, Greek, Stevie, Edie, Dinny,Bren,Doy
Did we all have some form of identity crisis??? No, we were just a great bunch of kids with our own ideas.....
---
Mike Puskar is getting to be quite a good golfer. Most people would be more than satified with a hole-in-one in a lifetime. Mike got his 2nd hole-in-one at Shawnee on Delaware in Pennsylvania recently. Mike plays 4 days a week and loves it. This can be a lifetime sport for all of us. Congrats Mike ! (maybe a miniature golf course? No, just kidding)....... posted 11/11/2013
......................................................................................................................................................................................................................
Sorry to hear that Bob Kentis past away from Cancer on August 13, 2013. In high school, he was involved in many differnt things. I know he was in the Physics Club, but also the Camera Club, Chemistry Club, Philatelist Club, Spanish Club, IRC, and even Baseball. He received his BS degree from Rutgers and Masters from Syracues & was an intelligence officer with the CIA for 50 years. He was a movie buff, a lover of fine food & wine, & loved to travel to exotic places. (posted 8/14/2013)
.............................................................................................................................................................................................
The note below on Paul Kelly reminded me of an occasion in track, We decided that Paul would run my 880 yard run and I would run his 440 yard dash. Cap Smith was not too thrilled about the idea, but he let us do it. In my year book, Paul wrote "to a washed up 440 man, the very best of luck for the future from a no good 880 man".........note from Bob Rosier - posted 7/1/2013
---
posted 6/20/2013
NBA member Beverly Baker-Kelly and A. Paul Kelly, MD, are the first African-American couple to both receive Fulbright Awards
Beverly Baker-Kelly, co-chair of the NBA International Law Section, has been awarded a Fulbright Scholar grant to lecture and do research at the Modern College of Business and Science in Muscat, Oman, during the 2010-2011 academic year, according to the U.S. Department of State and the J. William Fulbright Scholarship Board. Beverly has been tasked by the president of the college to help develop a new quality assurance office. She is also researching law firms in Oman and developing a legal education program for the college.
A. Paul Kelly, M.D., has also been awarded a 2010-2011 Fulbright Regional Research grant at Sultan Qaboos University in Muscat, Oman, and also in the United Arab Emirates. He is doing research on the epidemiology and genetics of keloids.
The core Fulbright Scholar Program sends 800 U.S. faculty and professionals abroad each year.
What an accomplishment..........CONGRATULATIONS FROM YOUR CLASSMATES !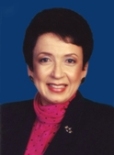 ---
Posted 6/1/2013 - Please note that Don Decker has a new email address: Javelinman2007@gmail.com. How did he get the name you ask?
I noticed Don's Email was Javelinman....you may not relate, but some of us can
we were winners in track for all four years.....taking on any and all that dared to appear
then big Butler High showed up for a meet.....will this be our downfall, going down in defeat?
we needed a super hero to come to our aid....and soon appeared javelinman, we now had it made
he had to throw further than ever before.....and by inches his spear won the meet with a roar
---
We are all sad to learn of the passing of the husband of MaryLou Zilka Miller on March 23rd. I talked with Ray Miller at our 50th reunion. Our prayers are with MaryLou and her family.
---
Our classmate Nancy O'Neill Pine has written another book. I purchased & read her 1st book "Educating Young Giants" about what kids learn (and don't learn) in China and America. I found it very informative and very well written.
Her new book, "One in a Billion" is about one man's remarkable odyssey through modern day China. It is about someone whose life mirrors that of modern China and has been one to always push for positive change fighting against corruption and impossible, limiting situations. This heart-wrenching story immerses readers in the dramatic survival of one outspoken man, An Wei, who illuminates the souls of a billion ordinary Chinese citizens. His perseverance and ability to confront adversity combine with the dramatic events and upheavals in China's modern history, inspiring a narrative that will keep readers enthralled. Being at home these days due to virus, this is a perfect time to catch up on some good reading material.
Kudos to you Nancy. A link to the information is at: http://nancypine.info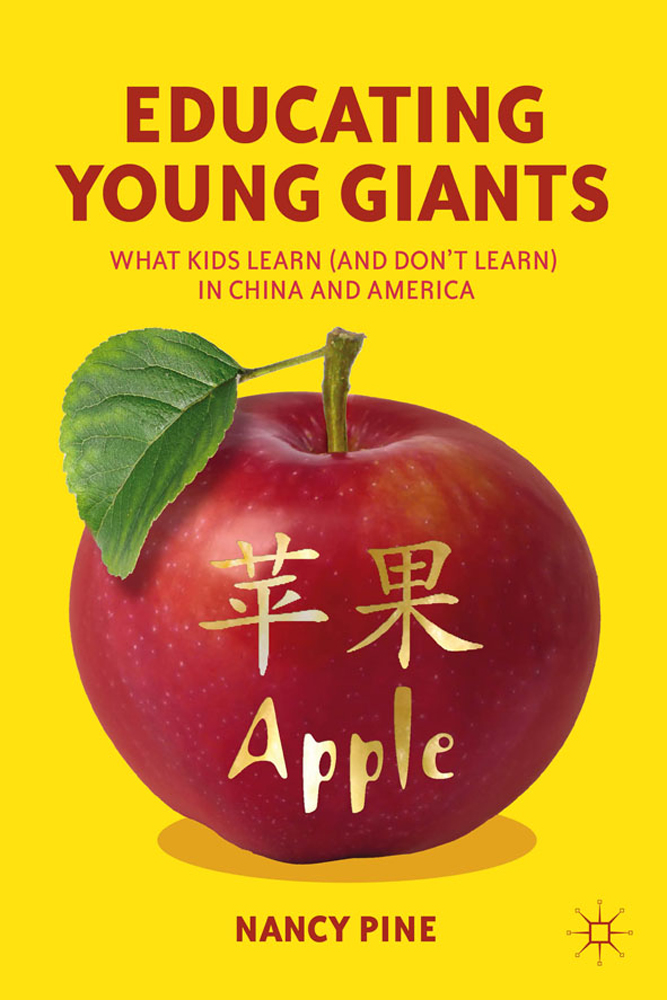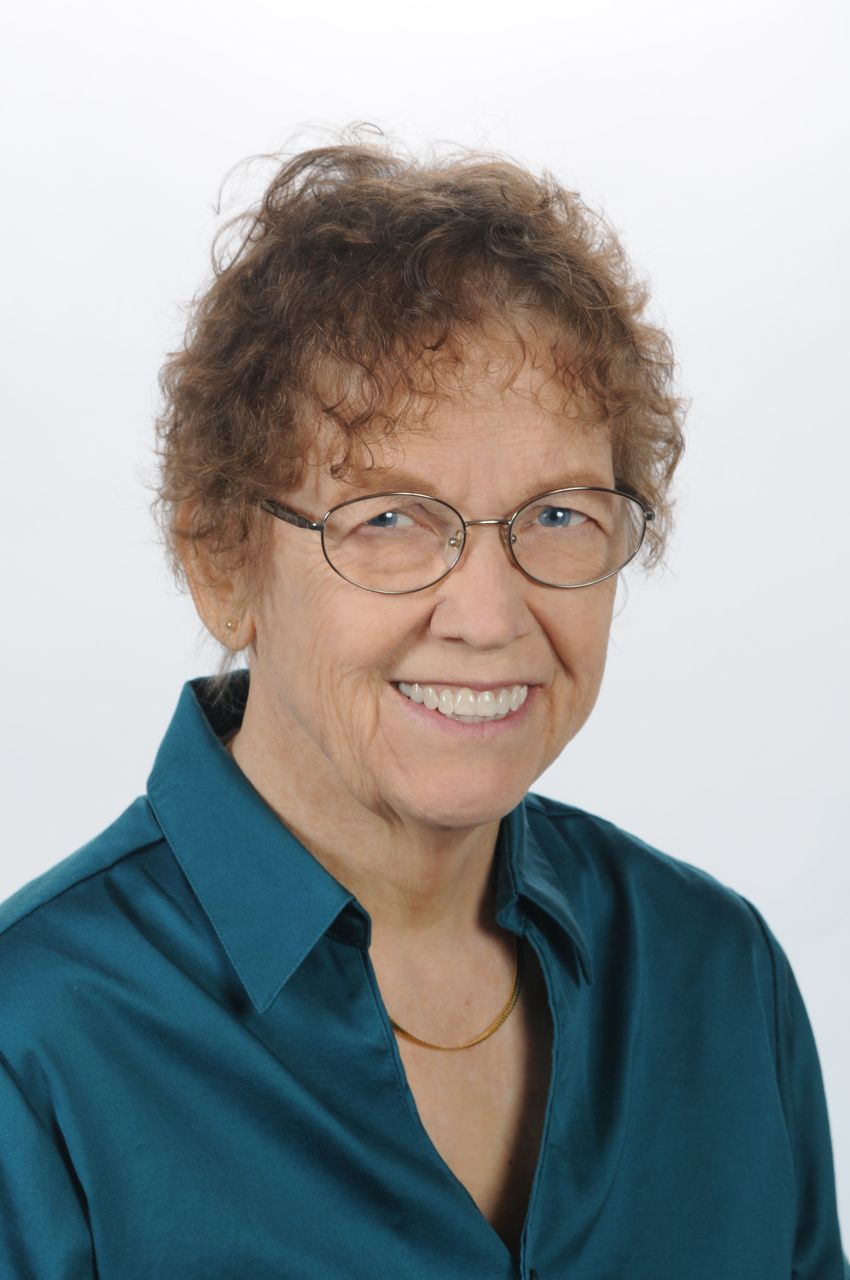 Move over Pete....there's a new author in town! Nancy O'Neill Pine was published in May....."Educating Young Giants: What Kids Learn (And Don't Learn) in China and America" (published by Palgrave Macmillan).
I've read the book and I am very impressed. I know of no other book that explains the difference and the similarities between the Chinese and American education systems. I thought all we had to do was change our school system and make them like the Chinese. Now I understand the reform we need and must do will come from the realization that there is good and bad in both systems and we should combine the best of both. We can learn from each other. I would say it is a "must read" for all educators and parents. Unlike many books that often have their own agenda, Nancy's book is well-documented, thorough, and unbiased. Throughout the book, Nancy uses real-life stories about teachers and children from her own personal experiences.
Amazon Books is where I ordered my copy...paperback...hardcover..used. Also available at B&N.
Much more information can be found at Nancy's Web Site at: http://nancypine.com
Congratulations Nancy !
Figures vary, but were you aware that China is 1st or 2nd in the world in Math and Science, and the US is around 25th in both? Shocking !
---
Natalie Douglas Sutton has been in the news for being a Good Samaritan by helping the homeless in the Las Vegas area.
She and her older sister and her daughters knitted over 100 items; hats, blankets, scarfs, gloves, etc.
I hope the following link stays up so you can see her on TV
http://www.mynews3.com/ugc/cat/communitycalendar/default.aspx
---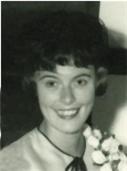 Gail Newton Roesner passed away February 23, 2012. "Newt", as many of us called her, was active in a dozen or so clubs in high school, but the choir was one of her favorites. She was an elementary school teacher, and played piano and sang in the church choir.
---
Pete Kerwien has yet another book published call "Wandering". That makes #4
Go to Amazon.com and search Peter A. Kerwien...they are only about 6 bucks & great travel stories.
---
The Class of '56 will be planning a very casual 55th reunion tentively set
for September 16, 2011 at the VFW in Morris Plains. Please be sure we have your correct regular and email address and phone number by checking our Class of '56 addresses.
Follow Up...... We had a wonderful reunion and time to visit with everyone there
------------------------------------------------------------------------------------------------------------------------------
Brian Rongo has been busy restoring an Antique Fire Truck and from the pictures he did an excellent job - posted 4/3/2011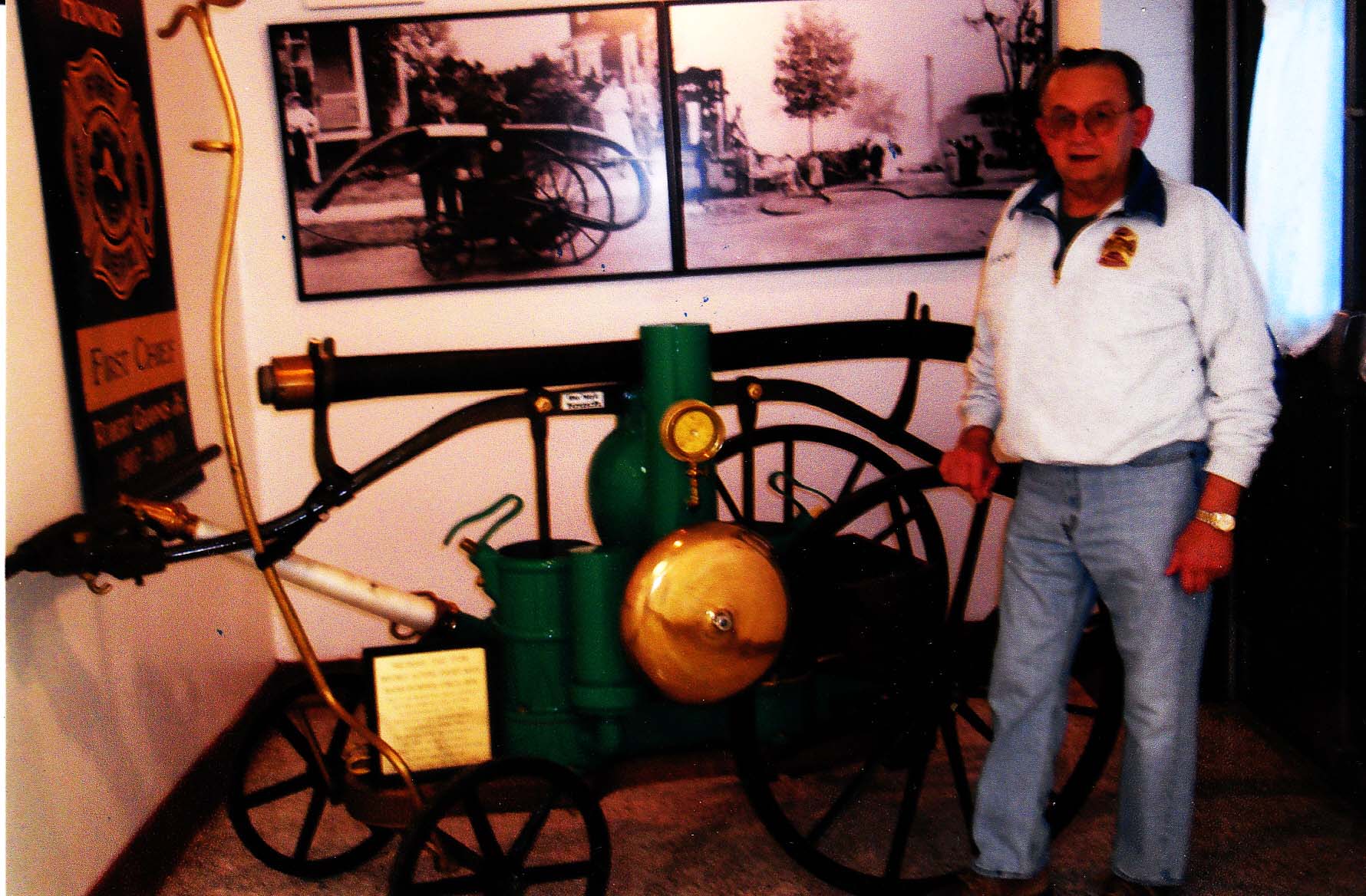 Morris Plains original hand-pumped fire engine -1922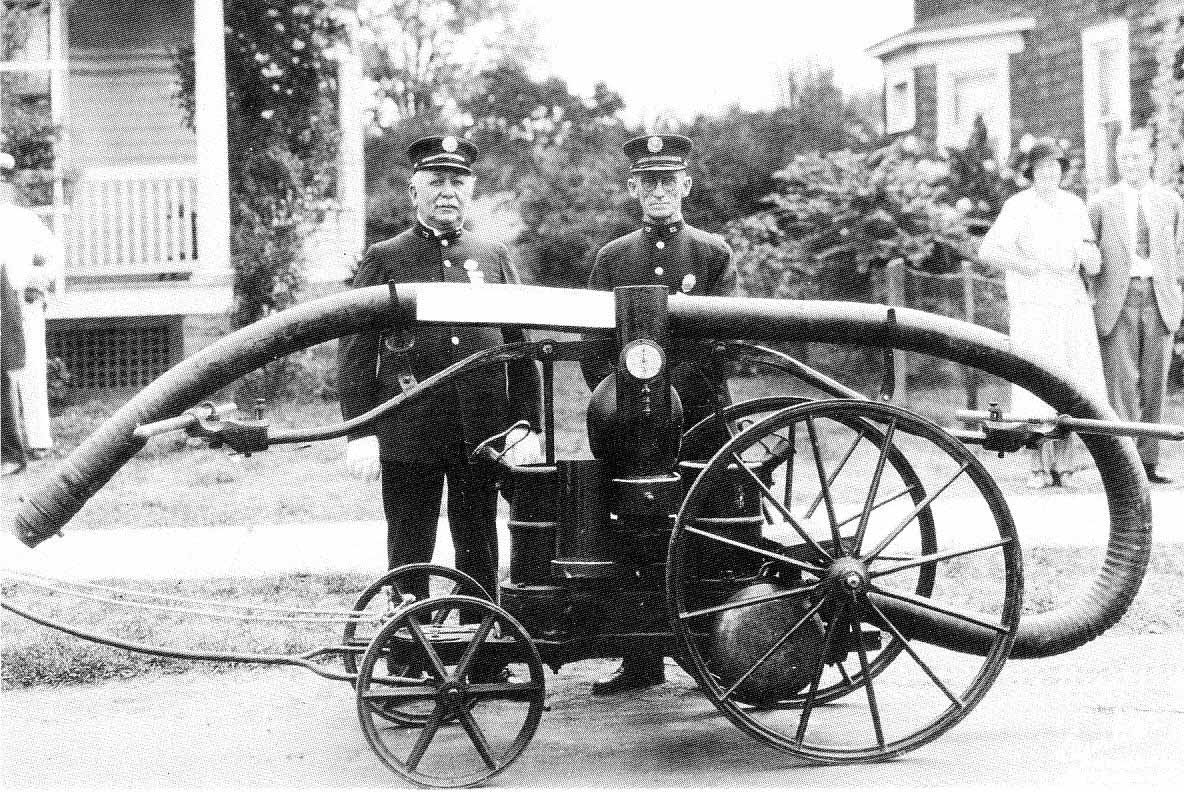 ---
Sorry to hear Mary Elizabeth Timpson passed away on January 29, 2011 from pancreatic cancer. Often she was heard saying "It was hysterical"
---
As many of us are loafing around in retirement, some have been rather active
Pete Kerwien just happen to have written 3 books......all published in 2010...Wow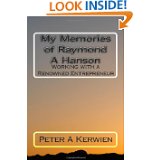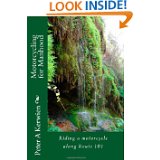 "My Memories of Raymond A Hanson: Working with a renowned Entrepreneur"
"Motorcycling for Manhood- Riding Route 101 along thge west coastline"
The third is about his Alaskan trip....Check them out at Amazonbooks.com
POSTED 12/26/2010
---
The Golden Girls are still meeting regularly - Join them ! (posted 11/16/2010)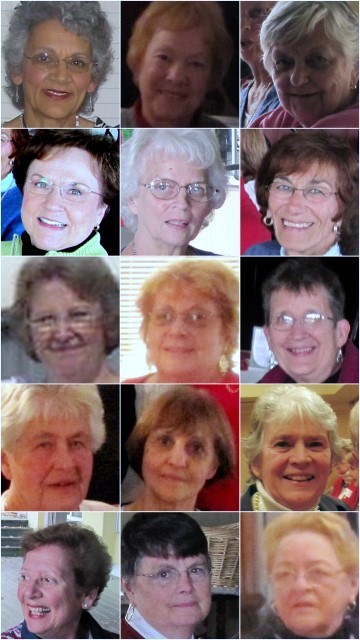 Marilyn Levata Tonry - Ann Lillian Schneper - Brenda Nolan Geissler
Charlotte Vigilante Terreri - Edith Sieben Strelec - Fran Pagano Brumwell
Gerri Luckey VanRiper - Gerry Longo Desiderio - Irma Taylor McKenna
Libby Thompson Dorl - Maggie Valerio Castrilli - Maryclare Dempsey Myers
Roberta Greenberg Reddy - Mary Schwind Scripture - Mary Timpson Meola
---
Glad to see the Massachusett gang is continuing to meet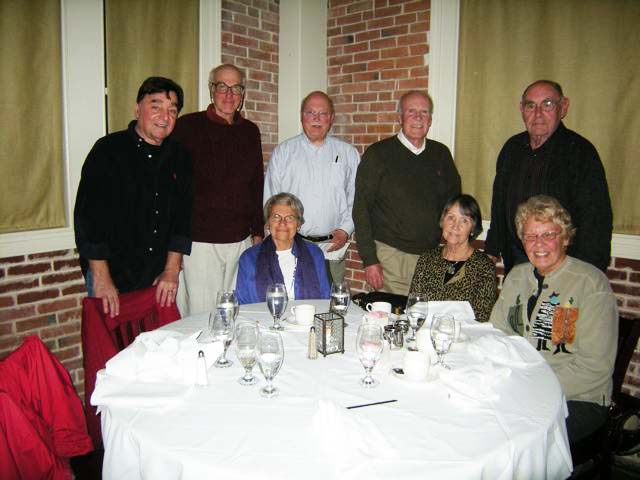 Front row: Jan Fowle McLanahan, Nancy Black, Diane Greenberger Ragin
Back row: Len Kaplan, Craig McLanahan, Steve Hoskin, Stu Black, and Paul Ragin
---
Stephanie "Stevie" Solodar Angelis is alive and well. Athough she had given all her information to the 2010 Harris Book Directory, somehow they listed her as no longer being with us. Not only is she still with us, rumor has it that she has changed very little over the years. Here is the latest picture I have of Stevie. (posted 7/10/2010)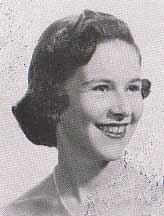 ---
Pete Kerwien and Mitzie are "On the road again" this time to Alaska in a 5th Wheeler. They have been sending back great stories and great pictures. Here they are at the North Pole. (Posted 7/10/2010)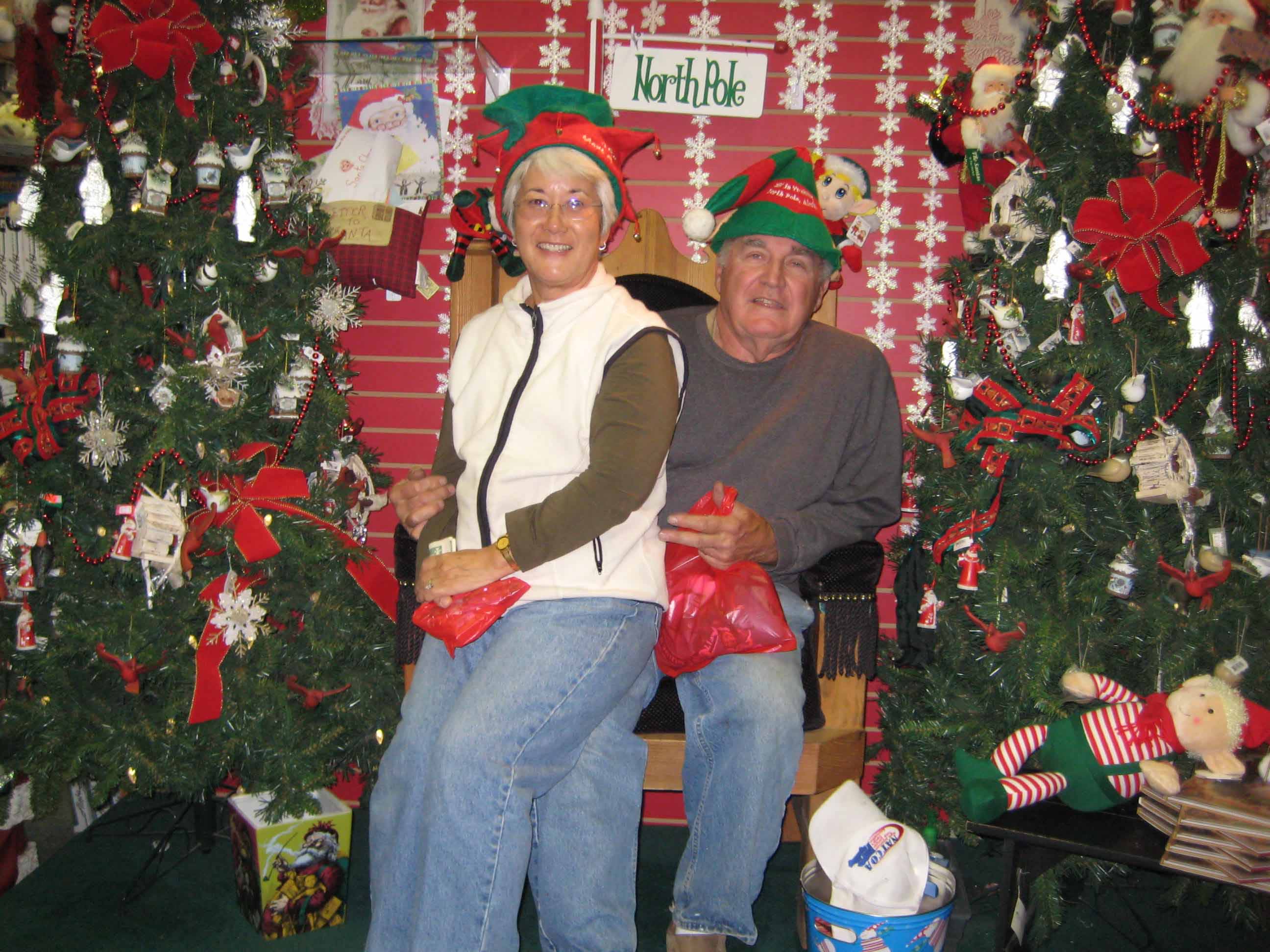 ---
Does everyone remember Kling's Quality Gasoline? They always had the most inexpensive gas. They were located at the bottom of the hill on the left on Spring Street off Speedwell Ave. I remember many cars spitting and sputtering as they left with a full tank, but we still kept going back. I recall 19.9 cents/gallon whereas the norm was 24.9cents/gallon. Anyone remember for sure?
---
A loss of another classmate. Glen Yawger, a.k.a. "Curley" who passed away Thursday, January 14 2010. You may recall him saying "You do nice work" or "Don't panic!". During his high school years he always said he planned to be a Dentist, and he reached his goal after graduating with honors from the University of Pennsylvania, earning a BA in English and his D.D.S. from the School of Dental Medicine. Glen was born in Morristown, N.J. He was a devoted husband and father of four sons. He is survived by his wife of 37 years, Beth, and their sons, David, Matthew, Stephen, and John, as well as his brother Bryce and sister Merle.
****Steve Hoskins memories of Glenn Yawger ***** 2010
I first met Glenn Yawger in September, 1947 in the fourth grade at Hillside Avenue School in Morris Township. David Ressler, Edith Sieben, Beatrice St. James. Fred Renigar, Doug Rainforth and Judy Wilkinson were in our class.
The most vivid memory I have is of Glenn's oral book report in Mrs. Piersons 4th grade class. It was by far the best book review I ever heard. I can see Glenn now in my minds eye standing in front of our class.
The book was FREDDY THE DETECTIVE by Walter R. Brooks (1932). The rest of our class were reading easy, thin, 14" by 12" childrens books, with lots of pictures. I waited until 5th grade at Alfred Vail School before tackling Freddy the Detective. Freddy is a very intelligent and friendly pig who resides on the farm and decides to open a detective agency and has many adventures.
In 2010, on the bookshelf in our living room on Cape Cod, I have one shelf where I keep about 25 books. Freddy the Detective and Treasure Island are the two children's books. I reread Freddy the Detective again two weeks ago. A classic! Far better than the Iliad.
Glenn and I were members of Boy Scout Troop No. 34 in the early 1950s. The Troop meetings were held at the Church of the Redeemer in Morristown. We were in the Otter Patrol. I am pretty sure Jerry Holden and Jack Zeis were also members of Troop 34. We took Saturday hikes to Jockey Hollow National Park walking out along Western Avenue to Tempe Wick's house. Our scout master, Mr. Hersey, owned about 10 acres of woods in Washington Valley, where we camped overnight many weekends on Hersey's Hill.
Glenn was a trumpet player at Alfred Vail Junior High and MHS with Bruce Revesz and Jimmy Murray. I don't recall interacting with Glenn at MHS. Ships in the night.
Glenn decided in 5th or 6th grade that he wanted to become a dentist. We all teased him about this - and pointed out that there were no left handed dentists. The left handers in our class were a talented group including Glenn Yawger, Janet Fowle and Gail Taylor. At the time left-handers were considered somewhat odd -at least by me- and were not encouraged.
The only time I ran into Glenn after high school was in 1978 standing in the outdoor line at the Dairy Queen in Bernardsville. He looked great with a full black beard. He had the misfortune to be in line behind Coach Hoskins and 7 or 8 ten year old girls who were members of the Bernards Township Recreation League softball team- the Tigers. The Tigers had a zero win - ten loss season that year. We said Hi and talked about the softball team. We confirmed he was a dentist. I was a lawyer. Then it was time to go. I wish now that I had told him about my memory of THE BOOK REPORT.
Glenn went to college and dental school at the Univ. of Pennsylvania. He was always a top student. I think it is possible Glenn Yawger was the best dentist in New Jersey. Not bad for a left handed trumpet player!

---
Sad news - Antoinette "Tony" Amelio passed away on July 30, 2009. Bowling was one of her favorite things. You may recall she was a Library Assistant, and also a member of the Library Club. She attended a training school for beauticians after graduation.
==========================================================
Kevin & Barbara Flynn are moving permanently to their condo in NH. See new address, phone number, and Email in the Address listing.
_________________________________________________________
Irma Taylor McKenna retired from nursing in February, 2009 and has joined the "Golden Girls" lunch group.
__________________________________________________
William (Guy/Goose) Jones Jr past away in May, 2009. He was living on Garden Street in Morristown.
__________________________________________
Richard "Dick" Felch passed away suddenly on May 4th, 2009. He lived in Hopatcong and worked for Sears for 47 years. His favorite sayings in high school were "Hello there!" and "Oh Nuts!" I think a lot of us still use those expressions.
_______________________________________________
Michael Sarinelli passed away February 28th, 2009. He was living in Sarasota, Florida
_______________________________________
Sorry to hear that Rosalie "Roe" Lawriski Panelli passed away December 7, 2008
Do you remember when Tom Hyland came to school with green hair on St. Patricts Day? I ask a few classmates, and they also remembered. I doubt if Tom realized that he was making a statement that would be remembered over 50 years later.
____________________________________________________
It was sad new to hear that Bill "Willy" Wraith passed away November 2008. He was involved in a lot of things at MHS; Choir, Band, Swimming, Golf, Math Club, Physics Club, and Chess Club. He enjoyed swimming and bowling, but also collected stamps and was a fine chess player.
_______________________________________________________________________
I loved the way Allan Peterson described our class so I just had to share. Assistant Editors Job maybe?
"I dusted off the old 1956 MHS Yearbook, and I realized anew what a great group of young people surrounded us - each one filled with potential and each one headed out into the wild world ready to become "FAMOUS" in their own individual way." ...........Allan Peterson
_______________________________________________
Fred "Pete" MacKenzie and his wife Carmen got together for lunch with Allan Peterson and his wife Carol. We now have Allan's Email address as Peterson65@aol.com. Allan and Fred had lunch in Casa Grande in the Phoenix area about half between their respective homes. Since retiring from Panasonic 3 years ago, Fred moved from southern California where they lived for 42 years, to Tucson. The "Active Adult" +55 community is keeping them busier than ever.
Allan spent 12 years in the Marine Corp. and retired as a Major. Later he retired from the Forrester International Paper Corporation employed in the forestry field. That was his major at Penn State. Allan's wife Carol retired from being a school teacher. They have two children, Joyce & Robert. Joyce is employed as an Engineer at Intel and Robert is a fighter pilot in the US Marine Corp. Robert and his wife gave them their first grandchild, Zach.
___________________________________________________________________
One item that stands out for me (Bob Rosier) was that I had Gym Class with Kent Bouchard, and during basketball season I continually fouled him every time he tried to make a shot. He finally started singing "Oh yes, he's the great Fouler" instead of the "Great Pretender"
____________________________________________________________
The Semi-Annual Reunion of the New England Chapter of the MHS Class of 56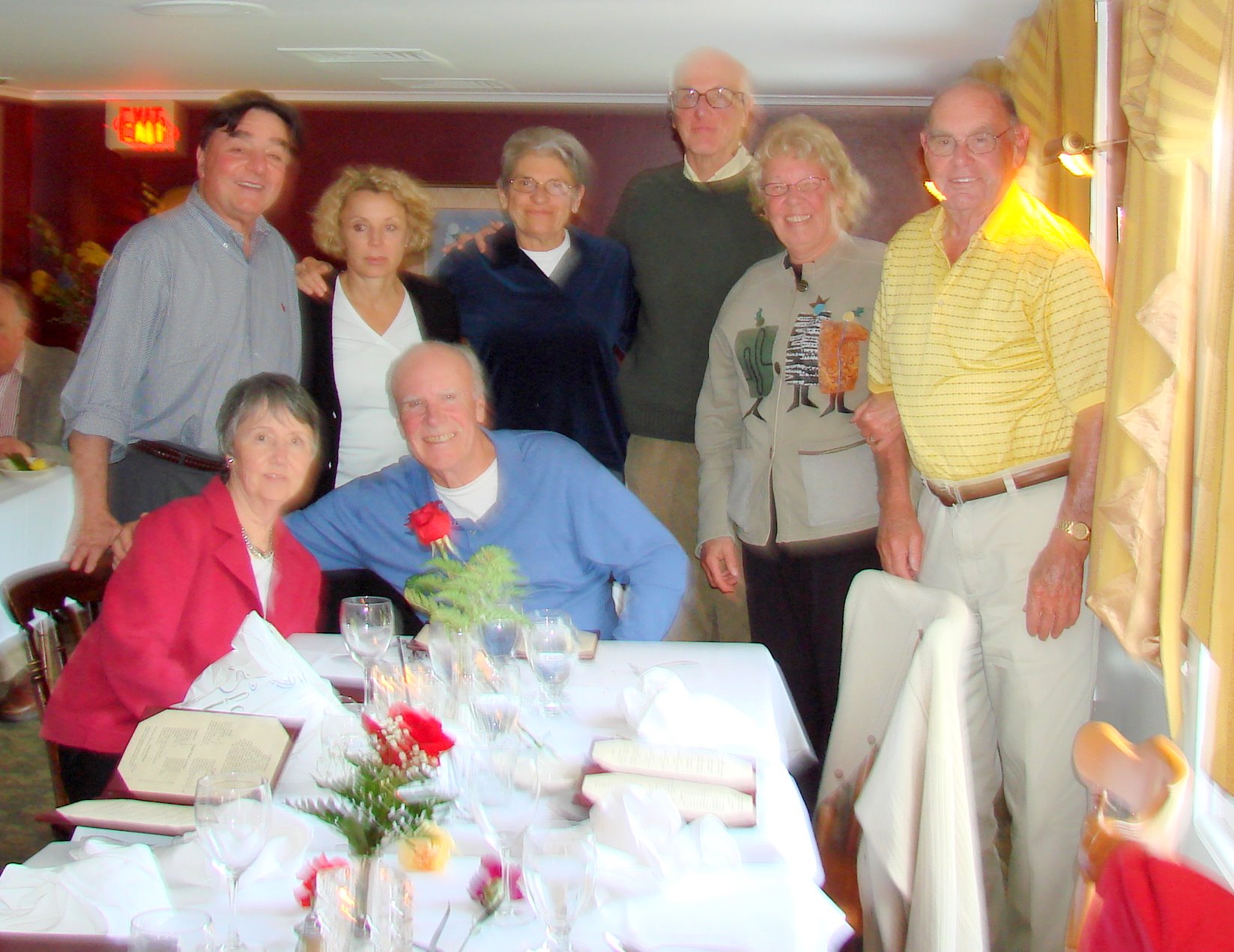 FRONT ROW: Nancy & Stuart Black REAR ROW: Len Kaplan & wife Janice, Jan (Fowle) McLanahan & husband Craig, & Diane (Greenberger) & husband Paul
Spring 2008
______________________________________________________________________________
Phil and Sandy Smith Webb celebrated their 50th Anniversary (WOW) on November 27, 2006. Congratulations.
Here is a picture of them with all their children and 10 of their 11 grandchildren.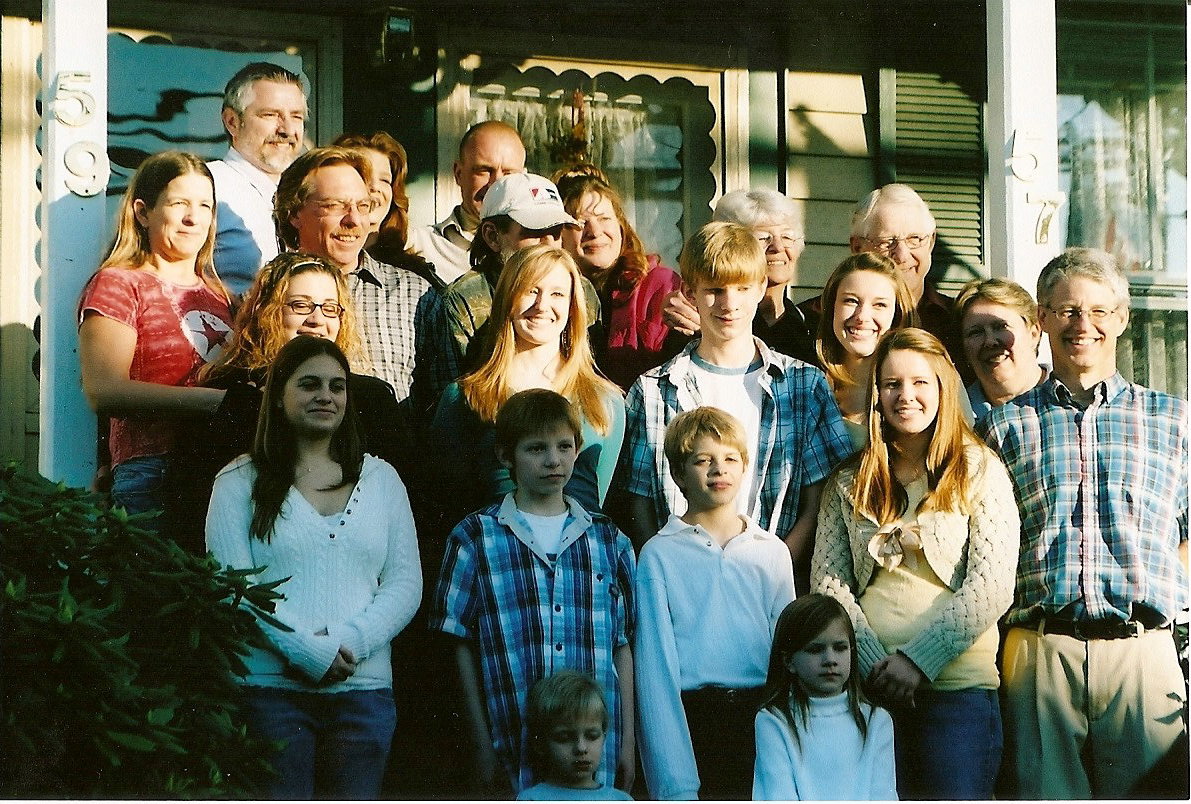 _________________________________________________________________
March 15, 2008 - We were sorry to hear that Albert Rudolph "Shank" passed away this date. We all remember what a a great basketball player he was.
_____________________________________________________________________________
March 18, 2008 - We are saddened by the loss of our classmate Carol White "Shorty" Gladden. Her favorite saying was "Oh great". She was in the Dramatic Club, Library Club and a Library Assitant, Student Council, Tri-Hi-Y, and on the Basketball Team.
_______________________________________________________________________________
February 13, 2008 - Sad news this date, Jane Hink Ellick "Janie" past away. "You Better Believe It" was one of her favorite expressions. She was on the Student Finance Board, and the Year Book Staff her senior year.
_________________________________________________________________________________
Pete Kerwien and Mitzi traveled cross country in an RV visiting many historic sites and visiting many friends and relatives along the way. For Pete Sake, isn't that something all of us wanted to do at one time or another? Well, they did it, and lots of great pictures were sent to many of us as they traveled along. (2007)
---
10/31/2006: Margaret Snyder and husband Elmer Hendershot celebrated their 50th wedding anniversary. (Daily Record).
---
10/30/2006: Virginia King has her own Web Page. If you like cats, you'll love her Site.
---
10/16/2006: It was very sad to hear that our friend and classmate Marty Cohen passed away suddenly. He had come up for the 50th Reunion. Here is a message from the family: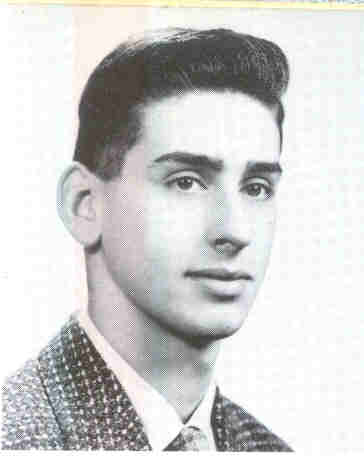 This is just a quick note to thank some of my friends and family and to unfortunately inform others of the very sad news that my father, Marty, passed away suddenly this past Monday, October 16th.

For those of you who don't know, my parents had been in our hometown of Morristown, NJ, visiting friends and family and planning to attend my dad's high school reunion. While there, my dad fell ill with what appears to have been either a bronchial infection or pneumonia. He was too ill to attend the reunion, and so rested a few days before making the drive back to Florida with my mom. When they stopped for gas in Fredericksburg, VA, he suffered a sudden seizure possibly caused by the infection, leading to apparent heart failure; he could not be revived by the paramedics.

These are the sad, simple facts of his demise, but they do not in the least do justice to his long and full life. He leaves behind untold
numbers of friends all over the world, having touched so many with his humor, his dignity, and his willingness to always lend a hand.

My mother, Norine, has asked that in lieu of flowers any donations be made to the charity of your choice. A memorial service in his honor will be held this Sunday, October 21, 2006 in Sarasota, FL, at a location to be determined.



Words of condolence may be sent to my mother at:
Norine Cohen
5406 Avenida Del Mare
Sarasota FL 34242-1913


Thanks again - Mark


Martin Paul Cohen, 67, of Sarasota, FL, died suddenly on Monday, October 16, 2006 in Fredericksburg, VA.

Born in Morristown, NJ, and a graduate of Rutgers University Mr. Cohen moved to Sarasota in 1983. He operated an oil and air-conditioning business for twenty years before becoming an entrepreneur in multiple enterprises. An avid fisherman, Mr. Cohen was also a charter boat captain and boat surveyor. He was a member of the United States Power Squadron, the Sarasota Sportfishing Angler's Club, the Sahib Temple, the Coastal Conservation Association, and a certified Merchant Marine captain.

Known as Marty to his many friends and loving family, Mr. Cohen is survived by his wife of 46 years, Norine; three sons, Michael of Tampa, FL, Jack and his wife, Audrey, of Atlanta, GA, and Mark and his wife, Alison Armbrecht of Atlanta, GA; his mother, Janette Furman of Tamarac, FL; his sister, Arlene Rubin, of Convent Station, NJ; three brothers, Richard Cohen of Nobleboro, ME, Dr. Leonard Kaplan of Brookline, MA, and Sanford Kaplan of Yardley, PA; and by two grandchildren, Rachel and Jake Cohen, both of Atlanta, GA.

A memorial service will be held Sunday, October 22, 2006, at 1 pm. In lieu of flowers, donations may be made to a favorite charity.

---